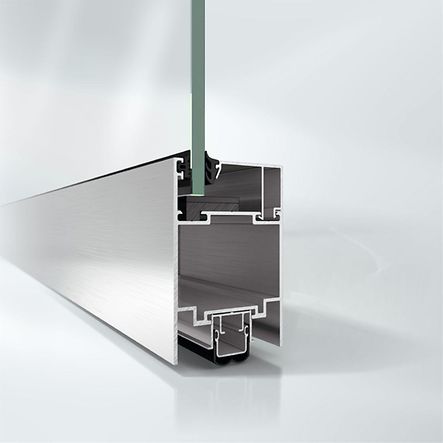 Non-insulated, flexible smoke protection construction with a basic depth of 65 mm
The Schüco ADS 65.NI SP non-insulated smoke protection door system for single and double-leaf doors, including the system fittings, has been fully tested in accordance with DIN 18085 and EN 1634-3.
The proven aluminium series with smoke protection properties is based on stable hollow-chamber profiles with a basic depth of 65 mm and can be optionally upgraded to a multi-functional door for additional building security and automation requirements. The range of applications covers everything from burglar resistance, panic function and optimised sound reduction to emergency exit control and access control with integrated emergency exit control components from the Schüco Door Control System.
Opposed opening door designs with opposed opening leaves for use in highly frequented corridors provide additional architectural design freedom, and can be installed in both newbuilds and renovations.
The multi-purpose groove for rapid fixing of the push-in fittings ensures efficient fabrication and installation.
Planning benefit
Inside use
A non-insulated system with smoke-protection properties to meet a wide variety of requirements
Multi-purpose features: smoke protection, optionally in combination with burglar resistance, panic function and sound reduction
Concealed door closers and door hinges for a high-quality appearance
Can be combined with access control, including the use of Schüco Door Control System components
Can be installed in masonry, concrete and lightweight block walls and in Schüco mullion/transom façade systems
Can be designed as an opposed opening door for areas with high levels of use
Register now..
Work material (e.g. tender specifications, BIM objects, CAD data, catalogues)
Note content
Direct contact to Schüco