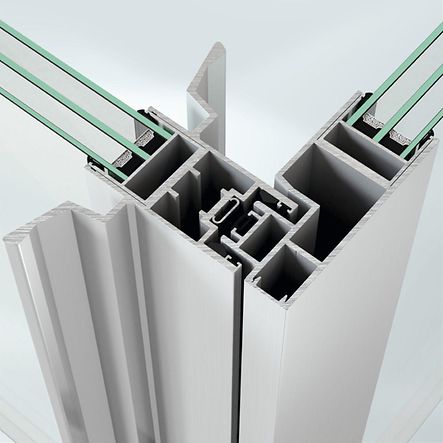 Non-insulated sliding system with Panorama Design – can be used flexibly in warm climate zones and for interiors
Highly transparent solutions for areas without thermal insulation requirements. With floor-to-ceiling glazing, the Schüco ASS 39 PD.NI (Panorama Design Non-Insulated) sliding system ensures visually flowing transitions in the interior and to the outside.
The extraordinary sliding system with the option of concealed, handle-free operation in the interlock section or elegant continuous pull grip captivates with its clear, homogeneous appearance.
The opening 90° corners are an attractive additional opening type which expands the architectural possibilities.
A new locking point, the optional locking feature for the system from the inside and outside, as well as an integrated flyscreen, ensure a high level of security and comfort.
Fabrication without bonding and the reduced number of individual components ensure easier, faster and therefore more reliable fabrication of the system.
Planning benefit
Handle-free system solution ensures clear and reduced design
Floor-to-ceiling glazing units: maximum transparency and aesthetic design
Wide selection of opening types based on double and triple-track outer frames including opening 90° corners
Continuous pull grip for an elegant, homogeneous design
Tests in accordance with European standards and AAMA standards (USA) guarantee a secure investment
Manual operation with integrated retaining catch
Register now..
Work material (e.g. tender specifications, BIM objects, CAD data, catalogues)
Note content
Direct contact to Schüco