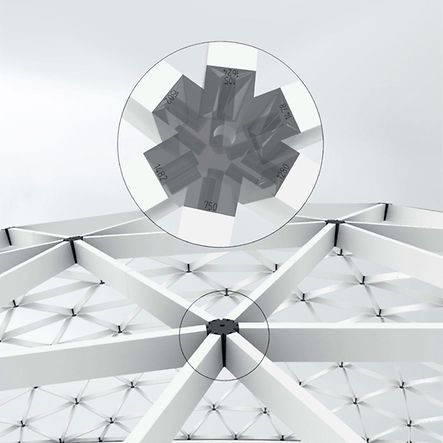 Grid2Shell is a self-supporting aluminium/glass construction that can be used as a complete curtain wall and also as an all-glass skylight construction, depending on the project.
No additional load-bearing steel substructures are required.
Schüco Grid2Shell is an easy-to-plan, plug & play modular system with a self-supporting plug system. The high-strength, aluminium-alloy load-bearing profiles are easily connected to specially fabricated node units without complex welded joints.
Triangular or polygonal module units can be used to create individual shapes for the building envelope. The option to have the vertical façade plane transition into the roof gives rise to particularly unique building shapes.
Planning benefit
Maximum design freedom thanks to rectangular, polygonal or triangular module units
Skylights with large span widths are possible
Flowing transition possible from the vertical façade plane into the roof area
Components from the modular system ensure a high degree of security
Outstanding structural, weathertightness and insulation properties
Three-level gasket system tested in accordance with EU standard
Support in the design and planning process (project-specific FEM calculation) through Schüco partner companies
Different coatings for an individual surface finish for the load-bearing profiles and joint nodes