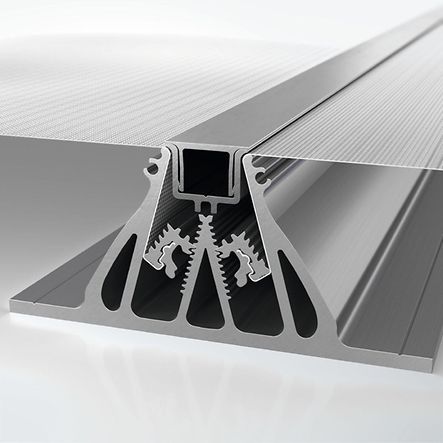 Multifunctional textile façade with wide range of uses and designs
Sustainable construction increasingly includes the entire lifecycle of buildings, which means that the demand for functionality and flexibility in façades is always on the rise too. With the Schüco FACID 65 textile façade, the external appearance of a building can be adapted to changing requirements quickly and efficiently at any time, without limiting its function – an important step on the path to the transformative façade.
Be it as a suspended, rear-ventilated façade, as an additional decorative level or as a combined façade, the highly flexible system opens up a wide selection of design options with suitability for digital printing, many different lighting options and three-dimensional malleability. A wide variety of fabrics is available depending on the application and building type.
Further benefits of the textile façade solution include its technical properties, durability and multifunctional applications.
Planning benefit
Exceptional design freedom through three-dimensional façade design, free choice of fabric installation, curved shapes and spanning open/window areas or leaving them uncovered.
Transparent façade appearance forms the basis for light effects such as back-lighting and projections; the opaqueness of the fabric can also be increased or decreased
Digital printing on the fabric provides corporate communication
Based on a patented clamping system used worldwide: maximum functionality and clamping without folds in all corners and attachments combined with durability and low costs across the entire lifecycle of the building
Use of high-tech textiles ensures multifunctional applications such as screening, sun shading, glare protection and protection against the weather: fibreglass fabric with fire classification A2 can also be used
Register now..
Work material (e.g. tender specifications, BIM objects, CAD data, catalogues)
Note content
Direct contact to Schüco