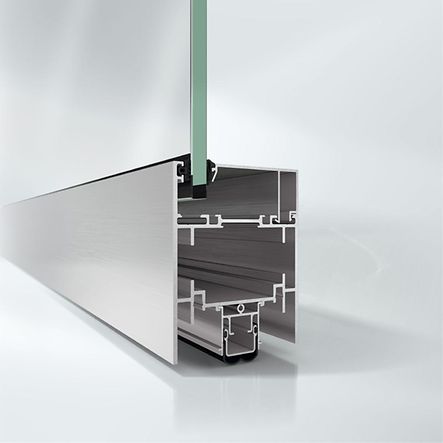 Non-insulated smoke protection system with high flexibility
The Schüco FireStop ADS 76.NI SP non-insulated smoke protection door system, with its innovative open rebate single-chamber profile, is based on the Schüco FireStop platform, guaranteeing a high level of flexibility in planning and design.
With a basic depth of 76 mm, the fully tested smoke protection system allows for maximum transparency with extremely narrow face widths in conjunction with a high level of user comfort.
The system also sets new standards in terms of handling during operation: for example the door fittings can be flexibly and easily retrofitted or upgraded at any time without impairing the security function. Converting from single-point to multi-point locking, retrospectively installing burglar-resistant components or other changes in use can be implemented quickly and efficiently thanks to the optimised fixing of fittings in the profile frame.
The fittings components used can be installed almost entirely without tools and machining, enabling efficient and reliable fabrication and installation. Together with the high level of pre-fabrication of the door constructions, this allows significant benefits in terms of cost and maximum flexibility during operation to be achieved.
Planning benefit
Simple and flexible changes in use while in operation by means of subsequent replacement of the fittings
Concealed fittings: attractive combination of smoke protection and stylish design can be achieved
New dimensions in terms of size and transparency: door types with large clear opening dimensions
High sound reduction requirements can be achieved
Schüco access controls can be used
Register now..
Work material (e.g. tender specifications, BIM objects, CAD data, catalogues)
Note content
Direct contact to Schüco