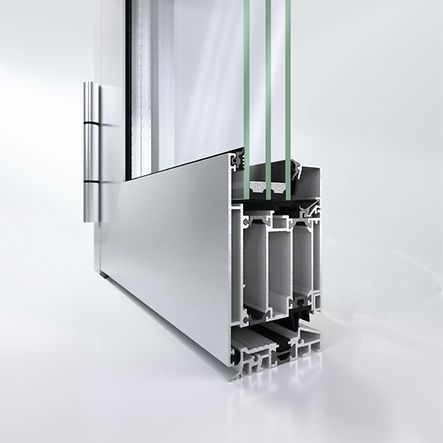 Stable and highly flexible basic door system in 75 mm core basic depth
The Schüco AD UP 75 BL (Basic Line) door system is the basic option of the Schüco AD UP system platform for 75 mm basic depth.
The benefits for architects, developers and fabricators include high stability and durability as well as great functional and design freedom, combined with easy and reliable fabrication and installation.
The triple-shell profile construction with double insulation level and a rebate gasket system with two gasket levels ensure good thermal insulation and weathertightness properties, even without the additional use of insulating foam isolators and glazing rebate insulation.
Planning benefit
Triple-shell profile composition ensures maximum stability and functional reliability
Good thermal insulation
Mechanical durability tests up to 1 million cycles ensure a long service life and a high load-bearing capacity
Range of vent types, concealed hinges in combination with door communication and access control for high degree of planning freedom
Barrel hinge for large leaf heights
Proven system security and comfort
Register now..
Work material (e.g. tender specifications, BIM objects, CAD data, catalogues)
Note content
Direct contact to Schüco