Lifecycle costs and conservation of resources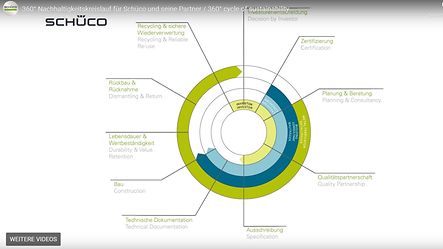 THE BUILDING ENVELOPE AND LIFECYCLE COSTS
The building envelope often accounts for a large proportion of the lifecycle costs. Although there are relatively high acquisition costs for aluminium windows and façades or ventilation systems at the start of the lifecycle, the calculation for buildings is a completely different story when lower energy consumption, reduced maintenance requirements and the monetary use of recycled material when the building is taken down and recycled many decades later are all factored into the equation.
This way of viewing the cycle also needs to include in the calculation comfort in the workplace and the high level of productivity for employees in work areas with optimum ventilation, in order to establish crucial decision-making criteria. This includes the work Schüco carries out with the WWF (World Wildlife Fund) and the ASI (Aluminium Stewardship Initiative), in order to scrutinise the entire aluminium supply chain according to ecological and social criteria. Schüco supports these value-oriented perspectives for modern buildings with its comprehensive concept of 360° sustainability.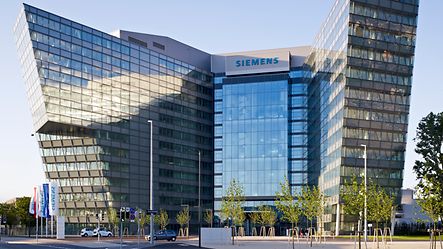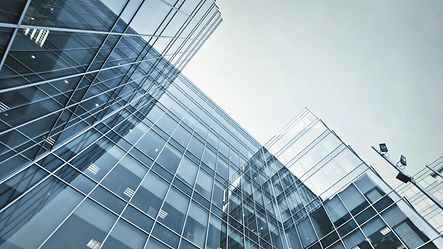 360° APPROACH, CONSERVATION OF RESOURCES AND CRADLE TO CRADLE
With the 360° sustainability approach, Schüco is offering window and façade systems for economical and future-proof buildings that conserve resources, along with all the necessary technical documentation and certification. The demand is for working and living spaces that meet the needs of users and promote health, while minimising the consumption of energy and preserving resources. This concerns the entire lifecycle of a product; from the production and usage phase through to recycling.
Modern building technology therefore needs to meet high demands in terms of design, comfort and security. At the same time, buildings reduce CO2 emissions through thermal insulation and optimised ventilation. Thanks to their intelligent designs and recyclable components that are not harmful to humans and the environment, they also make a significant contribution to turning raw materials into products which can be processed after use at the end of their lifecycle and once again become highly valuable raw materials. This "Cradle-to-Cradle" principle (C2C) is the model for an increasing number of products by Schüco.