The perfect sun shading, glare protection and screening for your home
Rooms that are flooded with light give your home that feel-good factor. But if the sun shines brightly through the window, you'll soon want the perfect shading too. We can help you through the summer months with Schüco internal and external sun shading systems, so you can stay protected in style.
What should you expect from sun shading?
Sun shading is more than just blinds for your home. With the right solutions, you can control the light levels, indoor climate, ambience and energy efficiency in the best possible way.
We have two different systems to help meet your personal requirements: Schüco AB ZDS (Aluminium Blind ZIP Design Screen) and Schüco Integralmaster. Discover the benefits and added value offered by the systems now.
External sun shading – Schüco AB ZDS
Schüco AB ZDS (Aluminium Blind ZIP Design Screen) is an external, textile roller blind system that is fully integrated in Schüco window and façade systems. The zip technology ensures a smooth fabric appearance with a modern design.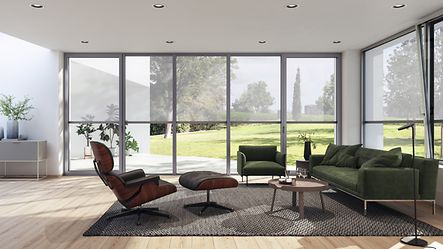 This is where Schüco ZDS stands out:
Best in bad weather: ZDS is extremely wind and weather resistant. The system can easily withstand storms of up to force 10 on the Beaufort scale, even when lowered. It is also easy to maintain and resistant to tearing.
The perfect fit: Thanks to the slim design of the guide tracks, the ZDS is able to integrate seamlessly into Schüco window and façade systems. When open, the system is virtually invisible.
Individual design: Choose between different fabric types and colour options for your home. Depending on the material, you will get either an opaque textile which provides excellent glare protection and sun shading, or a transparent material which ensures the perfect views to the outside.
Internal sun shading – Schüco Integralmaster
Schüco Integralmaster is an internal roller blind system which is perfectly integrated in the glazing beads of Schüco AWS 70, 75 and 90 window systems. It only appears when sun shading, glare protection or screening is required.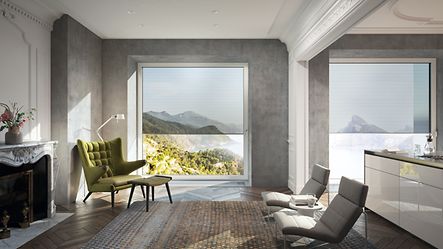 This is where Schüco Integralmaster stands out:
From extremely transparent to opaque: Depending on the foil or material selected, the system can completely darken the room or provide the perfect views to the outside through a high level of transparency – even when it is fully lowered. The range of different materials can be freely combined with one another.
Easy to use: The system can be controlled mechanically or electrically.
Well protected: As Integralmaster is fitted on the room side, the roller blind system can be used in any weather. It is fully operational when the window is open too.