Villa Herford
Minimalist design, a cosy living environment, durability and high-quality materials were the most important aspects for the Monke family from Herford when they were planning their dream home.
Cosy minimalism
A house is more than just a building. It's the place where we bring up our children, spend our lives and grow old together. It's not just a house, it's a home. This is exactly what the Monke family has created in East-Westphalia's Herford. With their own building project, the architect couple got hands-on in the truest sense of the word – from the initial design through to the construction. Their overarching aim was cosy minimalism. For some, this is perhaps a contradiction, but not for Heike and Karsten Monke. On the contrary: the architects and owners of archwerk GmbH love breaking with convention and combine traditional craftsmanship with modern design in their projects. And their own home is no exception. Large glass areas and units made from concrete and natural stone are combined with oak, which lends its natural charm to the interior design and creates a warm living environment where the entire family feels comfortable. 
Unobstructed views
At the heart of the house is the large living and dining area, which is framed by façade units with narrow profiles that open up the views of nature, the garden and the inner courtyard. The adjoining ventilation vents provide ample ventilation options. The inner courtyard provides a touch of intrigue with timber louvre blades that can be adjusted to either flood the room with light or provide shading.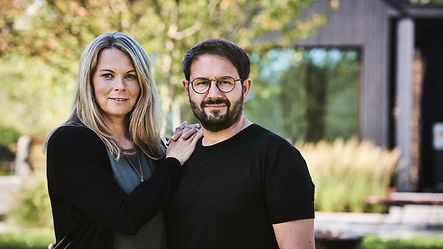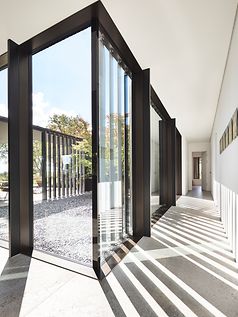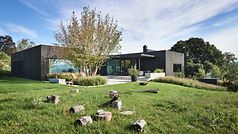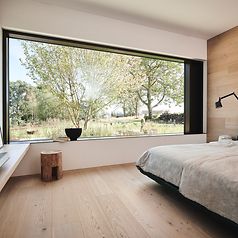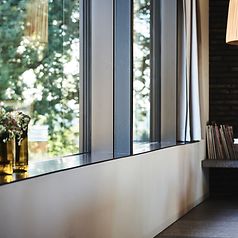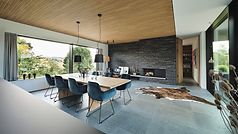 Clever use of space
The angle of the sun and open view of the beautiful surroundings and Teutoburg Forest played a key role in determining the room layout. Positioned on a hilltop, the building is secluded from view, ensuring a high degree of privacy despite the large glass units. 
Eye-catching timber façade
For the house's façade, the couple opted for timber, which was finished using the traditional Japanese method of Shou Sugi Ban. This method uses fire and controlled charring to preserve the outer layer of timber, thereby protecting the façade from rot and insects and giving it a unique look. The architect couple invested a lot of time and effort in achieving the perfect result. The family's hard work has produced a house that meets the highest requirements in design, sustainability and comfortable living. 
Project: Herford Villa
Location: Herford, Germany
Clients: Heike and Karsten Monke
Architects: Heike and Karsten Monke / archwerk GmbH
Living space: 265 m2
Construction period: 2016-2017
Schüco systems: FWS 50.SI façade system, ventilation vent, ADS 90.SI entrance door with DCS Fingerprint sensor, ADS 90 PL.SI (Premium Line Super Insulated) side entrance door
Text: Thorben Grünewälder 
Photos: Philipp Oesterle
Are you looking to create your dream home too? Take a look at our range of different reference projects from around the world and be inspired: www.schueco.com/referenceprojects