The country life
Living in Winsen, nestled between Lüneburg Heath and the glacial valley of the River Elbe, sounds wonderfully idyllic to some. For the Joost family, who used to live in the city of Hamburg, the idea took some getting used to at first. Today, they love their home in the countryside. As the client, architect and builder all rolled into one, Carsten Joost created the home in the countryside as the perfect retreat for his family. 
What does "home" mean to you?
It's somewhere for the family to retreat to and use as a base. No matter what's going on in our day-to-day lives, when we're here, we can relax and enjoy the view of nature while living in the moment. Home is a place that I associate with good times and precious memories.
What was your vision at the start of the project?
I wanted to build a house that was well-structured with a simple, functional and modern language of design. I wanted the ground floor to be in the style of a spacious loft, yet with relatively small rooms upstairs where people can escape. Floor-to-ceiling glazing was also important to us to create a link with the garden.
What did that mean for your design?
My wife and I came up with the design together. Our idea was to make it seem as though we were defying gravity – although we wanted the upper, enclosed floor to have a bulky appearance, we still wanted it to be supported by as few building structures as possible. That was also the biggest structural challenge during construction. But that's how you achieve the openness we wanted on the ground floor. It's the opposite upstairs. Although there's a vast landing here, we wanted the rooms, by contrast, to be small – only around 15 square metres. The perfect place where people can escape.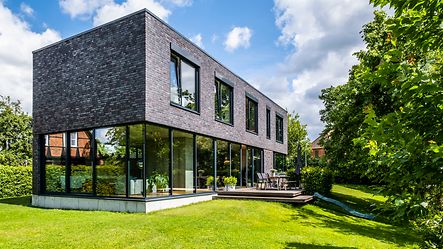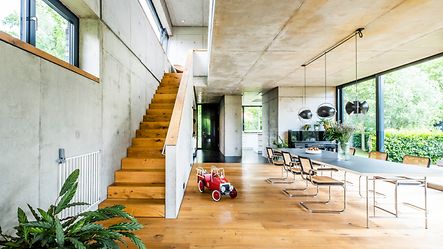 What is the architectural highlight for you personally?
In my opinion, the staircase is the pièce de résistance of the house and the coolest thing. We spent ages tinkering about with it to ensure it didn't encroach on the space and disrupt the large, bright living area. You hardly notice it now, because its part of the wall. It's unobtrusive and creates an even greater sense of space. Just like the large sliding doors. We couldn't make it any more open if we tried.
What was important to you when it came to the choice of materials?
I wanted to use honest materials – bricks, exposed concrete, oiled oak parquet flooring inside, Siberian larch outside. All of these things begin to age from day one; they change, acquire a patina and become more and more attractive. There are scratches, signs of use and things are never perfect. Although that's something you have to get used to at first, it's fascinating. It reminds us that everything is constantly changing. What we love about the concrete is how it always looks different depending on how the light reflects off the parquet flooring. Depending on the weather, time of day and season, its colour changes – on sunny days, it's almost white and when it's cloudy, it has a yellow tinge. As a result, the atmosphere in the living area is always changing too.
Using exposed concrete is considered tricky in construction, isn't it?
It sure is. Concrete sets the standard and everything else comes second. We often expect a newbuild to have that "new car" quality. When using exposed concrete, that's something you have to let go of. If the surfaces aren't totally straight, then that's just the way it is. Think about building tolerances in the shell construction, for example. Or if mistakes are made when taking measurements – with exposed concrete walls, what's done is done. It's impossible to grind out, rectify or plaster over any imperfections. You have to improvise and hope that you can live with the result. My personal tip is to make sure you incorporate enough ceiling spotlights in your design, because that's something else you can't change in retrospect either.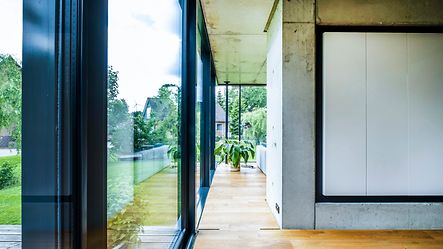 "It was challenging to be the client, architect and builder at the same time. I had to balance different priorities in each role: as an architect, the aesthetics were of paramount importance; as a client, I obviously had a much better overview of the finances; as a builder, I coordinated everything myself and had to learn to accept that mistakes happen and things don't always end up being perfect. In the end, I learnt a lot about myself. I learnt that a home doesn't have to be an architectural icon, for example."
Carsten Joost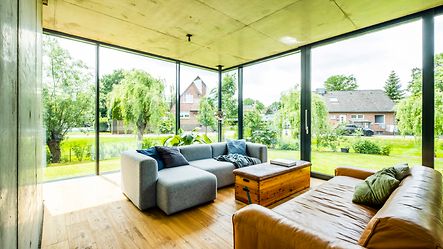 How would you describe the interior design?
Since moving in, it's been an ongoing process. When we moved in, we brought the furniture from our old small apartment in Hamburg, which looked quite lost in this space. It almost looked like the rooms were unfurnished. We've been settling in bit by bit. Our style is modern, scaled back and functional. It's not minimalist; our children have taken care of that with all of their things. Every single room is used and played in by them.
Where is your favourite place in the house?
The dining area is the most important area for us – as is the feeling of complete and utter freedom on the ground floor. It's the place where our family spends most of their time. Our children can play, run around and even ride their tricycles. The large sliding doors also create a direct link with the garden. In summer, when we put up the sunshade, it really does transform the inside and outside into one space. When closed in bad weather, we still have an unimpeded view of the outdoors thanks to the slender profiles – it's a fantastic way to live.
What is the first thing your guests notice about your home?
In terms of the façade, people often mention the mix of the solid structure and transparency of the building. It fascinates a lot of people. Inside, it's the spacious living area that has the wow factor. When looking through the large windows and sliding doors into the garden, you rightly wonder where the house actually ends. It feels like the living area doesn't end until you reach the green wall of lime trees and meadows at the property boundary. Guests are often amazed by this visual extension of the living space.
As things stand, is there anything you would have done differently?
I like to start off questioning everything that a house needs in terms of technology. At the time, we didn't see the need for a ventilation system. My view on that has changed somewhat. It would be handy if we were able to ventilate using a system, especially when no one's at home, or even in terms of pollen. We didn't think about how to protect the house from mosquitoes either. We came from Hamburg, where there aren't any mosquitoes. But here in the countryside, they're absolutely everywhere and you just can't see them on concrete. We'd also think about installing a sun shading system on the ground floor.