SchüCal MES
The Schüco system for efficient production control
Based on all pending production orders, SchüCal MES (Manufacturing Execution System) helps to deliver production information to each individual employee throughout the production.
With the help of SchüCal MES, all production-relevant data from SchüCal is delivered to the workshop via the Fabrication Data Center. In the push process, the orders run through the production process including the queries for production control (FPC). Any problems are recorded and the relevant colleagues are informed via a built-in messenger tool. The entire production process is monitored at all times, which helps the workshop manager to get a good overview of the ongoing production status.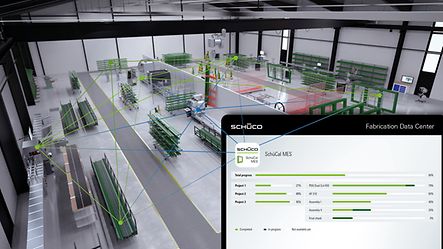 Don't have an user account yet?
Many benefits as a registered user:
Work material (e.g. tender specifications, CAD data, catalogues)
Software & Tools
Note content
Direct contact to Schüco