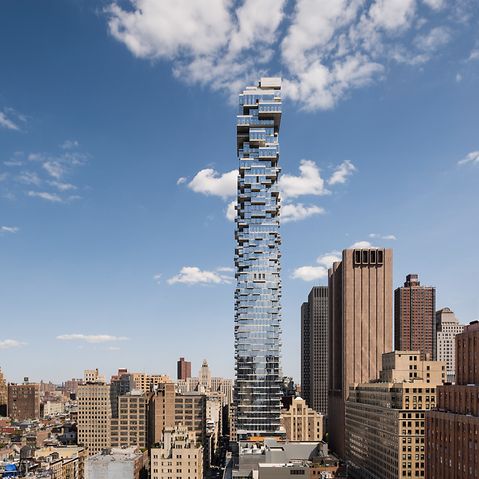 Outstanding buildings are our passion
We love what we do. We are bold and explore new avenues, identifying innovative technologies across industries. Our aim is to make the complex more simple, always. We embody outstanding quality and first-class service, and set digital trends. In short, we're really good at what we do.

"Digitalisation, demographic change, the fusion of work and private life and a new awareness of health and quality of life define our present and our future. This presents challenges and opportunities to which we respond with excellent performance and by making security, social responsibility and sustainable economic activity our priorities. These values are equally important for our company. For us it's clear: We are only satisfied when we are the first choice for our business partners."
Andreas Engelhardt, Managing Partner of Schüco International KG
Our values shape our business – both today and in the future
Strong ideas, continuous development and targeted actions stand out in our complete range of services. What drives us? Our goal, to be the best by far. We want to be the first choice for our partners worldwide across all phases of a building project. Today and in the future. Our corporate values, which we embody every single day, show how we will achieve this goal and what we stand for.
Focusing on the people
We appreciate the diversity of people, opinions and experience, and seek the best solutions for our customers together. We will also break new ground and see change as an opportunity. Openness means not focussing on individual interests, but seeing the bigger picture. Treating each other with respect and mutual appreciation are fundamental principles.

The issues of diversity and equal opportunities are important at Schüco. Embracing and valuing diversity has a positive impact on our organisation and society – that is something we are convinced of at Schüco and something we see as a chance for further development.

Our world is changing and moving towards greater diversity and equality of opportunities. We at Schüco want to become an active part of this process. We want to break down stereotypes and make sure our business practices always promote equal opportunities, to encourage a working environment that respects difference. This is an ongoing process that is constantly evolving.
Schüco Code of Conduct
For us, compliance is a matter of course. We obey laws and statutes, and follow ethical principles. With the Schüco Code of Conduct, we have defined the ground rules for the Schüco Group worldwide.
There we commit ourselves in particular to the rules of fair competition and the free market and hence will not tolerate corruption or the infringement of anti-trust laws. With regard to natural resources and compliance with environmental protection laws, we see sustainable economic activity as a self-evident obligation. We treat our employees and business partners with fairness and respect. We expect our business partners to respect the principles set out in the code of conduct and to act accordingly.
 
Code of Conduct (pdf, 255.0 KB)
Schüco International KG and all its subsidiaries are committed to preventing acts of modern slavery and human trafficking from occurring within their business and supply chain, and impose the same high standards on their suppliers.
With the following declaration, Schüco is sending a clear signal against all forms of forced labor and modern slavery.