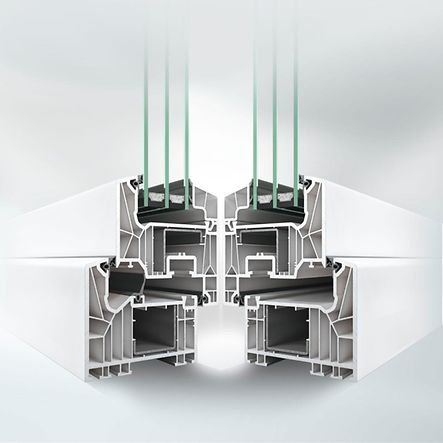 Schüco LivIng - the new generation for pioneering PVC-U doors
Twin system = One system with two versions (AS/MD)
The Schüco LivIng PVC-U system is an innovative 7-chamber system that can be constructed as a twin system with both a rebate gasket and a centre gasket. In conjunction with the centre gasket, the system achieves passive house standard in accordance with ift Rosenheim. As a system with a rebate gasket, excellent thermal insulation properties and narrow face widths are also achieved.
The first weld-on gasket is integrated in the Schüco LivIng window system. Using elastic, weld-on material increases the sealing effect in the difficult corner area of the unit, whilst also allowing for a closed, visually appealing corner design without hard gasket corners. The durable, eco-friendly material keeps a tight seal throughout its entire service life.
The Schüco LivIng series can be designed with three vent contours - Classic, Rondo and Viva; it also offers many different attachment and supplementary profiles. the Twin System can therefore meet the individual needs of any client, whether for private homes, commercial projects, newbuilds or renovations.
The PVC film range Schüco UnlimitedFinish and Schüco TopAlu are available for color design.The basic profile bodies are also available in different colors to match the surface design.
White profiles are supplied with modern, silver-grey gaskets, foiled profiles are available with black gaskets.
Planning benefit
Vento geometry with rebated appearance (Classic)
In the centre gasket system, all fittings components are even protected from corrosion and against dirt even more reliably by the additional drainage level
ift passive house compatible with centre gasket
Available with a grey basic structure
Increased basic depth for added security and burglas resistance
Wide range of accessories
Register now..
Work material (e.g. tender specifications, BIM objects, CAD data, catalogues)
Note content
Direct contact to Schüco