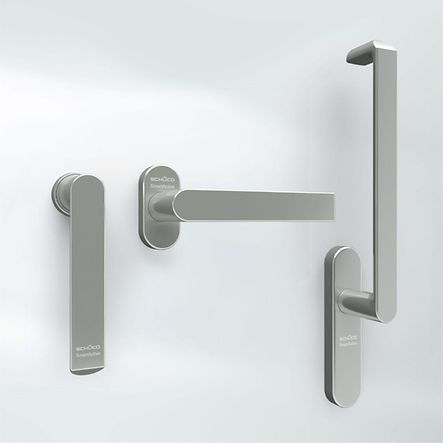 Long-lasting antimicrobial protection for window handles – fully integrated Schüco system solution
Hygiene requirements continue to increase, especially in areas such as hospitals, care homes, nurseries and public buildings. Multi-resistant germs which no longer respond to conventional treatment with medication are particularly problematic here.
Schüco has met this challenge by developing an antimicrobial surface. Schüco SmartActive can therefore be used not only for handles but also for aluminium profiles. This means that the inside of windows, doors, sliding windows and façades can be provided with long-term antimicrobial protection. A wide range of powder coating colours provides freedom of design with a high level of protection.
The familiar Schüco system features are retained and enhanced with the addition of the effective antimicrobial feature. The anti-microbial effect is achieved by means of high-purity microsilver particles that are incorporated into the surface finish. Germs that come into contact with the surface die off - and they are also efficiently prevented from reproducing. The microsilver used by Schüco is guaranteed to be nano-free and consequently cannot penetrate the skin.
Planning benefit
Integrated Schüco system solution for particularly hygiene-sensitive building areas
Applicable to profile and handle
Selected handle portfolio with the surfaces anodised C0 and Inox-Look
Register now..
Work material (e.g. tender specifications, BIM objects, CAD data, catalogues)
Note content
Direct contact to Schüco