Our new Schüco Innovation Now online platform hones in on three topics which will shape construction for years to come:
Health – Healthy Building. Smart – Smart Building. Security – Secure Building.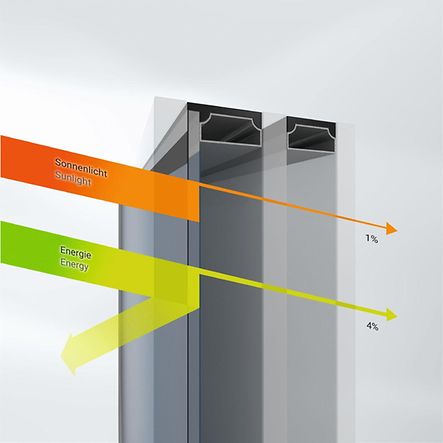 Glass that tints dynamically for use in Schüco window, door and façade systems
With the trailblazing SageGlass® glass solution, based on glass that tints dynamically, Schüco windows, door and façades can be electronically darkened or lightened silently and according to requirements – either automatically or manually via a button or touchscreen. Natural light and thermal heat absorption as well as glare protection can be controlled individually.
Unrestricted views to the outside are maintained at every stage of tinting. The SageGlass® sun shading system is therefore not only an efficient alternative to external or internal Venetian blinds, louvre blades and roller blinds, but is also guaranteed to provide high levels of comfort all year round. A further benefit is its puristic aesthetic, which sets new architectural standards.
The light transmission of the electrochromic glass can be adjusted between 1% and 60% in four levels. In addition to providing protection from glaring sunlight, this reduction also lowers thermal transmittance and ensures a pleasant indoor climate, even with high outdoor temperatures in rooms that are flooded with light.
Using the sun shading system in Schüco window, door and façade systems can further improve energy efficiency and user comfort, for sustainable and sophisticated architecture with optimised utilisation of daylight.
Planning benefit
Available as double and triple insulating glass
Consistently good views to the outside are guaranteed
Can be used in Schüco window, door and façade systems
System unaffected by wind and weather, suitable for any building height
Lower lighting and air conditioning costs
Three different tinting zones (LightZones®) possible within the glass
SageGlass® can help obtain "green" quality seals such as BREEAM or LEED certification
Register now..
Work material (e.g. tender specifications, BIM objects, CAD data, catalogues)
Note content
Direct contact to Schüco