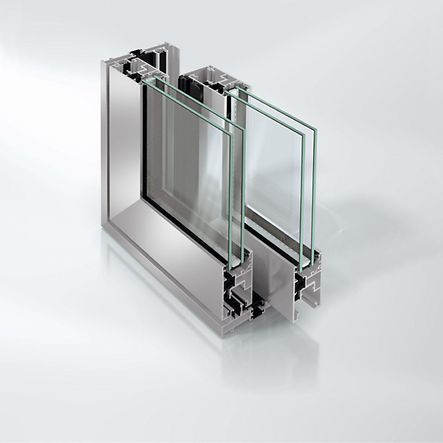 Thermally insulated sliding and lift-and-slide construction with attractive design options and comfort features
The Schüco ASS 50 sliding and lift-and-slide system combines thermal properties with a broad spectrum of architectural options and a high degree of flexibility specifically for commercial projects.
With its narrow face widths and large-scale vents, the thermally insulated system enables attractive solutions to be created for rooms that are flooded with light – with easy, almost silent operation and outstanding weathertightness.
The wide range of fittings, handles and colours guarantees that the system can be perfectly adapted to individual design requirements.
In addition, different equipment options for operating the systems are available to help make opening and closing the vent units easy and secure for the user.
Planning benefit
Wide range of designs based on single, double and triple-track outer frames
Flat outer frame profile as continuous frame
Can be combined with toplights, sidelights and spandrel panels from the Schüco AWS 50, Schüco AWS 60 and Schüco AWS 65 window systems
Easy and virtually silent operation of the sliding units coupled with excellent weathertightness
Options available for support with operation using Schüco SmartStop and Schüco SmartClose
Can be designed as a burglar-resistant solution
Register now..
Work material (e.g. tender specifications, BIM objects, CAD data, catalogues)
Note content
Direct contact to Schüco