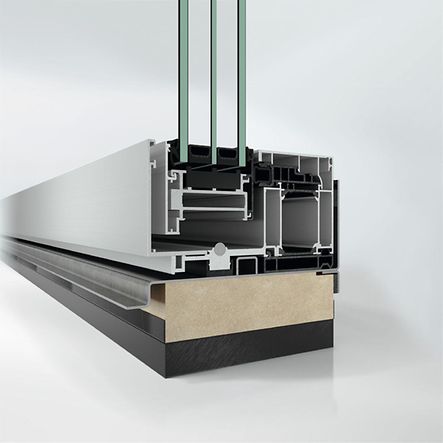 Gaskets with air in the Schüco AS AL 75 Panorama Design sliding system – the air-lux gasket concept
Through its partnership with air-lux, Schüco is taking a new approach with the gaskets in its AS AL 75 Panorama Design sliding system. The patented, inflatable gasket concept guarantees 100% impermeability for the sliding system, while ensuring that it remains easy to operate. This also applies to large sliding units and severe weather conditions.
Once the gasket is activated and inflated, it presses against the sliding profile and closes the gap between the sliding unit and the fixed frame so that it is completely weathertight. When open (gasket inactive), the gasket is rolled in and the sliding vent can be moved with minimum effort.
In contrast to systems with brush gaskets, there is therefore no compromise on weathertightness or ease of operation.
Planning benefit
The single-track system can be flush-fitted in the floor and ceiling area, as well as in the reveals at the side, so there is no threshold.
The sliding unit is installed on the outside of the façade, in front of the fixed glazing line. Visually distracting frame extensions are not required in the external sliding unit. The vertical frame face width is just 66 mm and the basic depth 173 mm.
The internal flooring is even with the glass line in the fixed and sliding vent area.
Concealed profile-integrated drive and locking system
Compressor for sealing is also hidden in the outer frame
The system can be adapted to meet specific safety requirements