It's an attitude, not just a trend – sustainability at Schüco
Building means thinking decades ahead. The buildings that we are designing today will determine the living conditions and ecological footprint of future generations. As a leading company in the construction sector, sustainability is therefore more than just a trend for Schüco. It is an attitude that we demand and demonstrate every single day. For us, acting sustainably is both our duty and what drives us – it's our "Motivation Green".
Towards a circular economy
Buildings are the raw material stores of the future. That is why we are actively driving forward the transition to closed-loop recycling in the construction industry. This means that recyclable materials can be preserved after their first usage phase with no loss of quality. Façade units can therefore be made into new façade units – or other building components with the same level of quality.
For our aluminium systems, we utilise certifications in accordance with the Cradle to Cradle Certified® Products programme. However, our PVC-U products also meet high standards in terms of circularity and reduced emissions. The best indication of this is the VinylPlus® label, which Schüco is the first company in the industry to receive.
In order to make closed-loop recycling as simple as possible, what is needed above all is functioning collection and return systems. Schüco has been committed to achieving this for many years through its membership of the A|U|F industry initiative for aluminium and Rewindo for plastic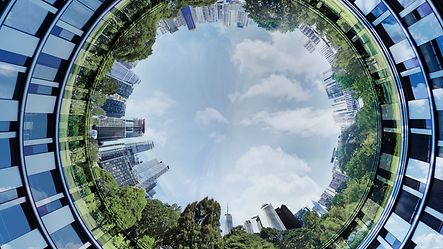 Suitability for practical use proven many times over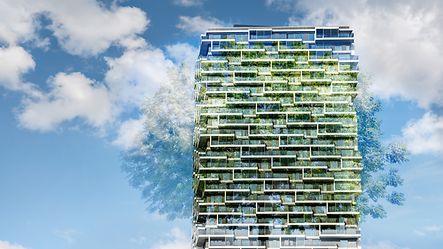 There are many examples of how entire buildings can also be designed to be largely recyclable. We at Schüco have also contributed to a few lighthouse projects with our products and systems:
In the Netherlands, the office building of Triodos Bank by RAU architecten sets new benchmarks with its autonomous energy supply and construction method that allows for complete disassembly. One particularly spectacular feature of the newbuild is the undulating, glazed aluminium façade made from the Schüco AWS 75 BS.HI window system.
The Vandemoortele Food Experience Center in Ghent – also by RAU architecten – is another prime example of sustainability and circular building. This zero-energy building was designed to have a long service life and fitted with a Cradle to Cradle certified curtain walling system from Schüco.
With the RAG headquarters at the Zollverein coal mine in Essen, the Kada Wittfeld Architektur practice created one of the first buildings in Germany to be inspired by the Cradle to Cradle philosophy. One of the products used in the façades of the newbuild was the Silver certified AWS 75.SI+ aluminium window system from Schüco.
Madaster: A library of building materials
When a building is torn down or converted, often no one knows any more which materials were used in it. The online platform Madaster wants to change all that. Property owners can register their buildings on there and the materials they contain, then share this information with others. This makes recycling easier, encourages smart design and reduces waste, thereby turning buildings into raw material databases. Transparency is created by a Material Passport, which users can produce for their building. It contains information about the quality, origin and installation location of the materials and products in the building. It also provides an insight into the residual financial value of the installed materials and – using the Madaster Circularity Indicator – their recycling potential.
Madaster was launched in the Netherlands in 2017. With the Madaster Kennedys, the company now wants to accelerate the establishment of a circular economy in the German construction and property sector. Schüco is delighted to be part of this development process as an expert partner.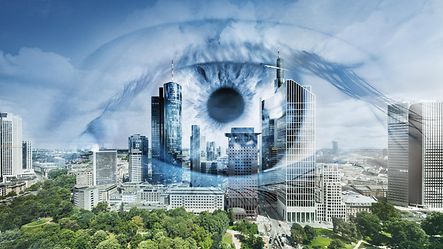 "Until now, the link to the digital product data after use has been missing for building automation, building evaluation and recycling processes. Madaster closes this gap."
Thomas Lauritzen, Head of Internal Services, Schüco International KG
Zero-emission by 2040
You have to walk your talk when it comes to change. Together with WWF Germany (World Wide Fund for Nature), Schüco has therefore set ambitious carbon reduction goals to help limit global warming to 1.5 degrees. To be precise, we are striving for climate neutrality throughout our entire value chain by 2040 as part of our "Emission Zero" focus project. By 2025, we also want to reduce our absolute carbon emissions by 30% compared to 2018
And what's more: we need to think about sustainability holistically
Sustainability is more than environmental and climate protection. That is why we are aligning ourselves with the Sustainable Development Goals of the United Nations to help achieve these aims. To do this, Schüco has defined six action areas that cover every aspect of our business activities: Environment, Products, Business Development, Supply Chain, Employees and Society. The focus is primarily on the development of recyclable products and climate neutrality by 2040, but also on responsible business development, sustainable supply chains and social responsibility for our employees and society.
If you want to know more about sustainability, why not read our article about the Greentech Festival 2022. Find out more about the BetaPort project and the products Schüco will be presenting at the festival.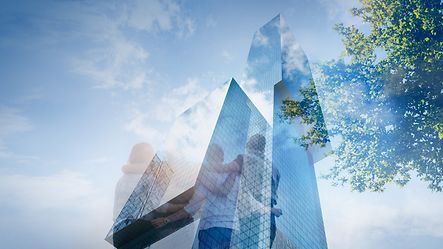 Sustainability at Schüco – the key points at a glance
Sustainability at Schüco – the key points at a glance
Register now..
Work material (e.g. tender specifications, BIM objects, CAD data, catalogues)
Note content
Direct contact to Schüco