Digital
Take the virtual tour and be inspired by our product experts. Successful planning, construction and operation – with tailored digital solutions from Schüco.
Today's building practices will change considerably in future. Digitalisation is an enormous opportunity for the construction industry because it opens up a wealth of possibilities throughout the entire life cycle of a building, from transforming processes and tools to the way we think. Alongside the added economic value for all involved, the user takes centre stage. Services can only be improved and developed to the extent that the user's needs are understood and combined with the possibilities of technology.
As part of i.NNOVATIONNOW, Schüco is presenting an all-in-one look at the possibilities of digitalisation.
How do the individual solutions interact? Through tools that are fully integrated in specifiers' working environments which can automatically suggest the right components based on project-specific requirements and compare them with one another. The relevant product information can also be transferred straight into the planning model. Another focus is on the sharing of planning data throughout the rest of the value chain. In order to avoid conflicts between tools use by planners and by metal fabricators, interfaces have been developed to allow all Schüco assemblies to be transferred from a BIM model to the metal fabricators for further detailed planning at the press of a button. The pre-configured items are transferred with their size, shell dimensions, installation dimensions, window dimensions and tolerances, enabling calculation, planning and work processing to be linked to the BIM process.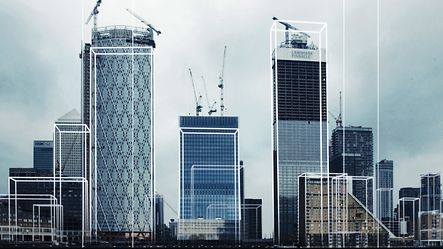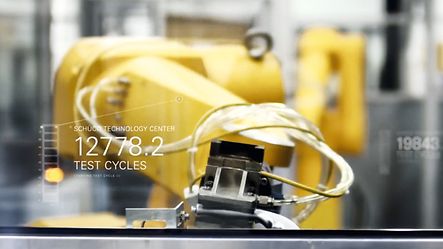 The linked fabrication quotation is also continuously updated, including multi-axis machining and processing options, while thanks to our collaboration with Kuka, for the first time not only the machinery itself is optimised, but also material stocking processes. Taking inspiration from the IoT (Internet of Things), the concept of IoF (Internet of Façades) is revolutionising building operation. Individual building components possess intelligent fittings which continuously transmit operating information. Is the window open or closed? How many times has it moved? This allows us to draw conclusions about maintenance periods and to identify installed products. This in turn means servicing can be provided pre-emptively, and allows analytical data to be fed in to future building projects and product developments.
Furthermore, cloud-based project management tools ensure a consistent workflow for everyone involved in planning and construction. It's about having the self-awareness to create long-term and holistic solutions which add value for different users. But standing still means falling behind. So new digital solutions which can react to the transforming world of construction are constantly being developed. Because, ultimately, it's about making construction more efficient and more straightforward, minimising errors and costs and uniting everyone involved as a team.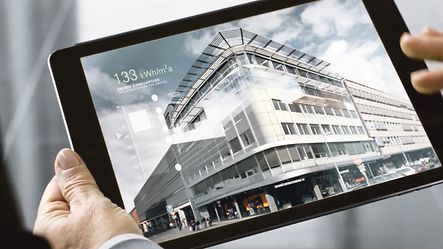 PROFILE: Instead of designing a product, you design processes. Where do you see the potential and space for future development?
One of the greatest potential that I can see is in improved cooperation or interaction between individual digital modules. To support the business interests of individual market actors, the systems should better interact with one another through improved interfaces. That includes integrating structural information, building physics or simulation tools, as well as rules-based databases for storing building product information. It's also important to check that things are technically possible in the early stages of the development process. To do this, technical knowledge must be integrated into specifiers' development and design software by means of plugins. Interfaces like this make it much easier to plan reliably, as the technical and economic feasibility of units can be verified at the click of a button so that a valid basis for decisions can be created at an early stage of planning.
PROFILE: When it comes to digitalisation , we often talk about the well - known » toolbox « . But surely the human or, better put, the user is also a significant factor?
Indeed. I believe improved interoperability includes improved networking across the board, not just between individual software applications, but also individual actors. That concept has to be introduced while you're still in education. Integral planning can only be successful through cooperation between disciplines. Unfortunately, that's something taught at too few universities these days. One of the main focuses in our endowed professorship at East-Westphalia-Lippe University is therefore introducing this kind of collaborative work into the teaching. We can also benefit from looking at developments in other branches of industry, for example block-chain technology. Concerns in the wake of BIM about ownership of data, safeguards and issues of liability can all be answered using blockchain processes, to the benefit of everyone involved.
PROFILE: » Fail, but fail fast «. That's your motto when it comes to productdevelopment. What does that mean?
Even if something is technically possible, it can also completely fail to meet the demands of the market and users. Following user-centric design theories, we have established an innovation process which builds a service landscape around the requirements of the end user. Concepts for possible solutions are created based on intensive analysis of user demand. After at most four weeks, we build prototypes and mock-ups to validate these ideas as early as possible through user tests, which quickly separates the wheat from the chaff. Once we have a successful pilot, we begin to actually implement the service.
PROFILE: What would you like to see in the future?
Looking at the possibilities of technology in isolation won't, in the long term, help us get ahead. Any technological innovation can only reach its full potential if it can be integrated as a module into a holistically designed and networked infrastructure. In my opinion, the greatest advances in innovation in our industry can only be achieved with a consistent and continuous cycle of planning, building and operating, then re-analysing that data and feeding it back into the process.
Patric de Hair - Head of Digital Innovation Lab | Co-Founder & CEO Plan.One | Schüco Digital board member
PROFILE : The world of construction is becoming ever more complex . Will choosing a product in future also depend on the service that comes with it?
Of course, I mean, absolutely. Because only the things you can plan digitally are the ones that get built. And what is digitalisation ultimately about?
Making specific processes simpler and easier for the user. This is something we grapple with every day across many applications which we confidently use and also develop. Applying that to the digital roadmap for construction and operation – and its value chain – we aim to make the process simpler and provide clear added value for specifiers and architects, as well as construction companies and building operators. Our driving goal is to provide a benefit, not to develop a gimmick. With our solutions, we want to establish standards and reduce information barriers between everyone involved in a project. In doing so, we make our partners more competitive and simultaneously provide a unique combination of systems, software, machinery and services.
PROFILE : So in future , we won't be talking about design potential , but room to manoeuvre?
The magic triangle of every project is time, quality and cost. For example, there is always a conflict between budget constraints and quality requirements, always a balance to be struck. With a suitable tool, in our case a piece of software, you can guarantee a professional standard of project development, make your processes more efficient and ensure your building process is problem-free. This affects planning and administration as well as the digitalisation of the building site. When it comes to our cars, we make sure to keep the information in the logbook up to date. Why isn't data from the use and operation of a building automatically fed back into the planning tool? This increases users' comfort and satisfaction and ensures the operators' building management is cost-effective.
PROFILE : When is a development a success?
We of course put ourselves in the shoes of our users, and also observe trends in customers and specifiers' technology which affects us. But at the same time, we are also setting our own standards by identifying future  trends and turning them into something useful for the construction industry. Digital planning and construction can no longer be separated from the real world. We've succeeded in innovating when we manage to make our own digital solutions provide added value and make allow our users to integrate them into their working environment. The goal is always to reach our full potential through standardisation, automation and digitalisation. Ultimately, everyone involved in construction will benefit, so these new ways of working will gain increasing acceptance in day-to-day work as well.  In the end, we won't be discussing whether digitalisation is changing the  construction industry, but how we can actively shape  and guide the process.
Raphael Viemeister -Managing Director of PlanToBuild GmbH
Register now..
Work material (e.g. tender specifications, BIM objects, CAD data, catalogues)
Note content
Direct contact to Schüco