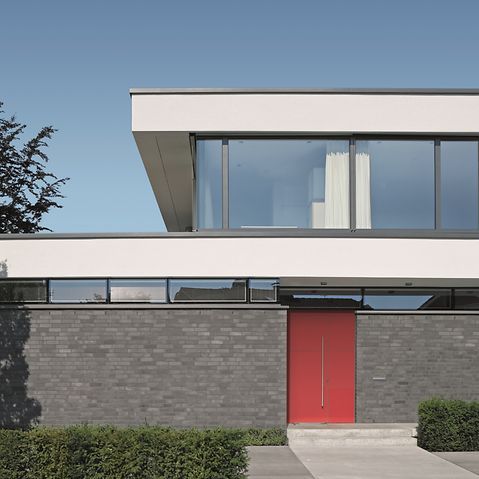 Excellent thermal insulation, top quality and highly varied design
The entrance door is a key element of every façade. With a new Schüco PVC-U entrance door, your entrance area will become a truly eye-catching feature and highlight the individual character of the building. In addition to aesthetic benefits, PVC-U entrance doors from Schüco offer exceptional burglar resistance and maximum thermal insulation. Your dream door can also be fitted with a wide range of technical accessory components to enhance ease of operation in line with your specific requirements.
Highest quality requirements and a wide variety of benefits
Increased standards in terms of thermal insulation and sound reduction, changing needs and technical progress – today, a new entrance door must do much more than ever before. In order to meet these increasing requirements, Schüco entrance doors can be made from different series. You can therefore be certain that your new entrance door from Schüco will do exactly what you expect it to.