Three questions for Dr. Thomas Schlenker
There is no alternative to digitalisation. The same is true in construction. Dr Thomas Schlenker - Senior Vice President Digitalization & Smart Building at Schüco - answers why this is good and what contribution Schüco is making.
What do you see as the core benefits of digitalisation in the construction industry?
Schüco started with electronic work preparation back in the 1970s and much more has changed to digital: Fabricators and planners are now provided with a whole range of digital tools and instruments - from planning and fabrication to building operation. In this way, we enable our various target groups to plan, process and install our systems easily and with low risk.
Because that is our goal: Whether metal construction partner, architect or general contractor - everyone should be able to work more efficiently and productively.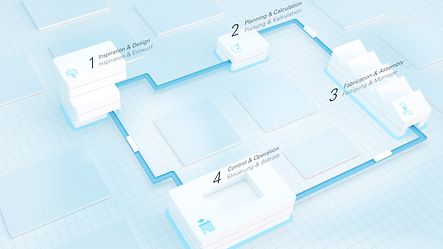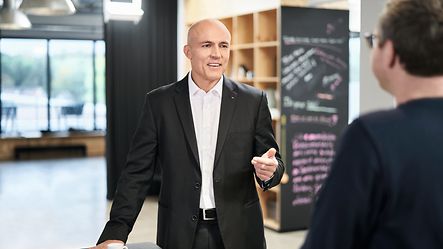 Many decision-makers are confronted with numerous offers and opportunities when using digital applications. How does Schüco support this and what challenges do you see in the use of digital solutions?
The importance of digitalisation at Schüco is extremely high and we do a lot ourselves. We have more than 250 colleagues who take care of software and controls. Our Partner Success Team ensures, in addition to the classic training and support tasks, that the focus is on the individual process at the partner and that a precise analysis shows which products and services can be optimally integrated into the value chain.
Because every company has its own structures and processes. This also includes, for example, direct digital processes between us and our partners in purchasing. This 360° portfolio and the proximity to our users is very important to us and ensures that we and our partners can act professionally and efficiently. We want to use the opportunity of digitalisation - for ourselves and others. However, leading the way as a trailblazer in the construction industry is not a sprint, but a marathon.
What contribution can digitalisation make to new sustainability requirements within the construction industry?
In order to achieve the ambitious climate goals of the European "Green Deal", all sectors must rethink, including the construction industry, one of the most resource-intensive sectors. Most of the energy consumption relates to the operation of the structures, but the construction process also leaves a significant environmental footprint. Digital methods and tools can make a significant contribution to ensuring that buildings can be planned, built and used better, more efficiently and, above all, more sustainably. Concrete examples are the concurrent calculation of emission factors in our calculation software SchüCal or the support of paperless processes in the workshop or on construction sites.