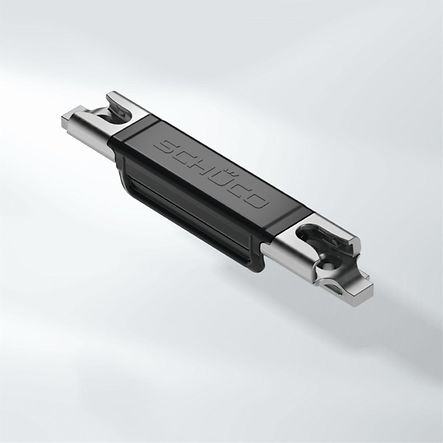 Security meets smart building management in the Schüco SensTrack wireless monitoring of opening and closing.
The wireless, battery- free keep reliably sends signals about the opening status of the window and can be directly connected to systems that are compatible with EnOcean or to KNX systems by means of an additional external gateway.
Unlike standard systems for monitoring closing on the market, Schüco SensTrack wireless works without an external energy supply from mains power or batteries.
The kinetic energy required to transfer data for the monitoring of closing system is generated by locking and unlocking the window. The turning movement of the window handle sets the fitting in motion and moves the locking roller into or out of the SensTrack wireless keep.
This triggers an EnOcean signal with information about the locking status of the opening unit, which is sent wirelessly to the receiver terminal.
As it does not require an external supply of energy, the monitoring of closing system is also particularly sustainable and maintenance-free, as batteries are not required and do not need to be replaced, conserving resources for people and the environment.
Schüco SensTrack wireless can be installed or retrofitted directly in the Schüco AWS window systems with AvanTec and AvanTec SimplySmart fittings.
Schüco SensTrack wireless is integrated in the groove, so you can't see it. It therefore does not impact on the appearance of the window. Furthermore, its concealed installation protects it from being tampered with from the outside.
Still don't have a user account?
News from the areas of building automation and ventilation systems
Work material (e.g. tender specifications, BIM objects, CAD data, catalogues)
Note content
Direct contact to Schüco