Schüco Carbon Control makes it possible for fabricators to reduce CO₂ emissions in planned building envelopes (windows, doors and façades) with future-proof solutions using new reduced-CO₂ materials and hybrid constructions. 
This allows fabricators to actively manage the carbon footprint of the relevant building during the construction phase and, moreover, to create the right conditions for subsequent climate-optimised or climate-neutral operation of the building. 
In this way, we help the fabricators to meet the increasing requirements of the market regarding CO₂ at the tendering stage and secure their competitive position for the long term.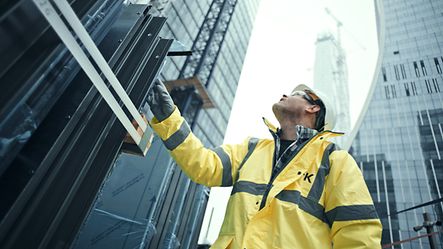 With Build to Decarb on the path to a CO₂ -neutral future
'Build to Decarb' is our modular product that allows fabricators to actively manage the carbon footprint of the planned building during construction and to adhere to regulatory requirements. 
Alongside energy and CO₂-efficient solutions such as our 3D calculation software SchüCal, reduced-CO₂ hybrid systems and new materials such as low carbon and ultra-low carbon aluminium are available to our clients. 
This efficient combination makes it possible to reduce the level of Embodied Carbon in construction projects and in addition to achieve an acceptable basis for the reduction of Operational Carbon during subsequent operation of the building. 
Why Carbon Control from Schüco?
There are many good reasons for designing and implementing construction projects with Schüco Carbon Control. With our CO₂-reducing products and services, site-specific decarbonisation of the building envelope can be achieved throughout all phases of construction.
FAQ
What is an EPD?
What is an EPD?
The abbreviation EPD stands for 'Environmental Product Declaration'. The EPD is a document itemising, in data form, the environmentally relevant properties of a specific material that is to be used in construction. Ideally, the entire lifecycle of the material will be taken into account here. Using this data, which is based on the GWP value of the material and the structure, an ecological assessment of the building can be carried out and the building certified. 
What is the GWP value?
What is the GWP value?
The GWP value quantifies the 'Global Warming Potential' of a building – the CO₂ emissions from Embodied Carbon and Operational Carbon – across its entire service life. The GWP value is shown as the CO₂e, or the CO₂-equivalent. 
What do LC and ULC stand for?
What do LC and ULC stand for?
LC stands for 'low carbon aluminium' and ULC for 'ultra-low carbon aluminium'. These two terms are used for aluminium products that are available from Schüco alongside similarly energy-efficient standard aluminium; they offer profiles with an especially low CO₂ value.