Circular economy: Go Circular
We at Schüco are certain of it: Buildings are the raw materials stock of the future. This is why we are actively driving the transition from linear to circular construction, i.e. closed recycling processes – one example of this being our Cradle-to-Cradle certified systems.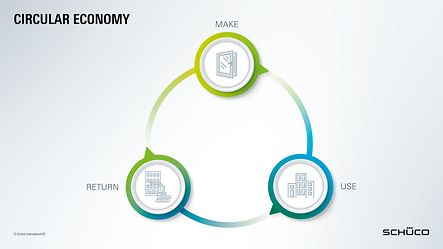 What exactly is the circular economy?
In the circular economy, materials continue their life even beyond the active usage phase without any loss in quality. Thus, in the circular economy model, what would previously have been considered construction waste is used as the base material for a new, equally high-quality product. This is the case, for example, when a façade unit is processed into a building component of equal quality after being reintroduced to the production cycle.  The circular economy meets the growing demand for resources with calls to reduce waste to a minimum, reuse products and materials, and to recycle them after the active usage phase.
Our circular systems
The circular economy model we use for our aluminum systems relies on certifications in line with the Cradle to Cradle Certified® products program. With a total of 55 certified aluminum systems, Schüco is a pioneer in the industry in applying the cradle-to-cradle principle. Find out more about our C2C-certified systems.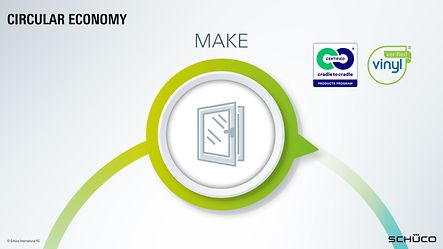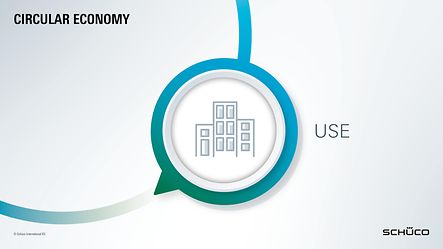 Our materials all boast a impressive level of durability and recyclability. For example, our aluminum systems are of outstanding quality and optimal material strengths for construction, thereby ensuring mechanical robustness and excellent corrosion resistance. This ensures a long service life and makes aluminum windows, doors and façades sustainable.
What else do we do?
In order to make it attractive for the manufacturer to take back products and to ensure that materials can be reintroduced into the material cycle as easily as possible, the most important element is functioning collection and recovery systems. In light of this, Schüco has already been involved in the sector initiatives AIUIF and Rewindo for many years, in order to close off the material cycles.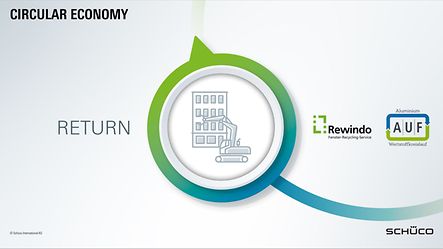 AUF Initiative for a functional circular economy
AIUIF
AIUIF
The objective of the AIUIF (Aluminium and the Environment in Window and Façade Construction) is to promote the disposal and processing of aluminum construction components and profiles removed from windows, doors and façades for the purpose of reusing the materials in the long term. AIUIF members, of which Schüco is one, include system vendors, manufacturers, fabricators and suppliers from all over Germany. The AIUIF carries out responsible recycling of used aluminum window profiles, almost 100% of which can be recycled.
Find out more about the work of the AIUIF.