The 1950s: The early days
During the West German economic miracle, innovative windows and façades become more and more important. Schüco supplies them. The company is at the forefront of progress using light and modern aluminium.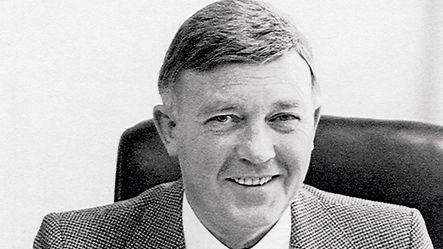 The birth of Schüco
1951 An instinct for opportunities, a willingness to take risks and a down-to-earth attitude – founder Heinz Schürmann was purported to have all of these qualities. Together with five employees, including his half-brother, Günter Reinecke, he creates the company Heinz Schürmann & Co. KG in a small backyard in Porta Westfalica. The product range at the time includes aluminium shop windows, awnings and rolling grilles.
1954 Schürmann's motto "I can and I will" is reflected in the development of the small metal fabrication company. Shortly after its foundation, the company is expanding, conquering new markets and growing constantly. In Munich, a new branch opens as the headquarters for the southern German region. By moving to Bielefeld, still the site of the company headquarters today, Schüco finds a new home. 
Pushing the boundaries
1955 The web of branch offices grows, with more and more locations being added. During this time, new commercial branches are established in Düsseldorf, Frankfurt, Stuttgart and Hamburg. And Schüco goes international. The strategy is to grow, diversify and expand internationally. 
1957 The first of many appearances at exhibitions for Schüco is at the Hanover Messe. On a small exhibition stand, Schüco presents innovative building profiles and fittings made from lightweight metal. The same year, Schüco becomes a registered trademark.
1958 Licence agreements and agency contracts enable new cooperation across Europe.In 1958, Schüco enters into a partnership with AluKönigStahl (in Austria) that still endures today.