Barrier-free window and patio doors
Building without barriers shows foresight. All the barrier-free elements in your home allow independent use of living space – substantially without outside assistance. This includes extensive accessibility, ease of use and operation, and superior comfort.
The Schüco AWS barrier-free window systems provide the perfect solution for barrier-free windows, as well as for balcony and patio doors throughout your property – whether it's side-hung windows, turn/tilt windows, double-vent windows or floor level units.
Schüco AWS barrier-free window systems offer
✓ Completely level access from floor-level zero threshold
✓ Ease of use with or without comfort components
✓ Extensive versatility throughout the property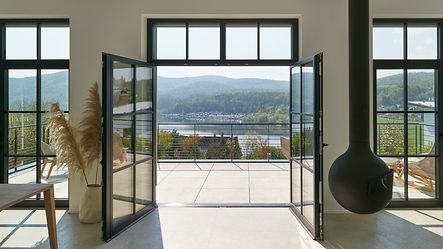 Completely level: balcony and patio doors with zero threshold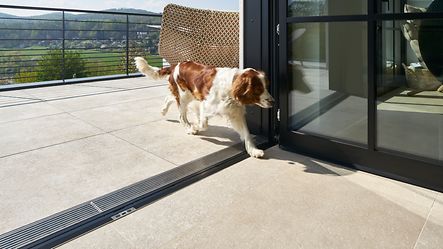 The Schüco zero threshold is completely level allowing easy passage. The threshold achieves Class 6, the highest classification according to the IFT guideline BA-01/1 for the "Identification of the classification of roll-over capability of thresholds".
If it is raining outside, two continuous sealing levels provide optimum sealing for the zero threshold system, thereby achieving Class 9A watertightness for single-leaf patio doors and Class 7A for double-leaf patio doors (DIN EN 12208). In this case, the threshold can be combined with standard drainage systems and incorporates an integrated non-return valve for the best possible water outflow. In addition, a delayed hydraulic lowering system allows anyone to close it without any difficulty.
Simple to operate: with or without comfort features
Everyone should be able to operate windows. Ensuring the opening and closing procedure is as easy as possible is of enormous importance, particularly for wheelchair users, or people with motor impairments. In accordance with DIN 18040-2, this means with a maximum operating force of 30 N for the tilt position and 5 Nm to operate the handle.
The possible dimensions and the operability of the units depend on the installation depth of the systems, the composition of the glass and the height of the handles along with the fitting accessories. Depending upon the design, Schüco AWS barrier-free window systems meet the requirements for maximum operating forces even without the use of comfort components such as comfort fittings, cord ejector or spring assembly. Note, however, that specific designs must be considered individually.
Barrier-free comfort components can be built for window depths of 70, 75 and 90 mm and allow free adjustability of operating forces and thereby compliance with the permitted operating forces for ease of access in accordance with DIN 18040-2.
Find out more about fittings here.
Wide variety of applications: barrier-free throughout the building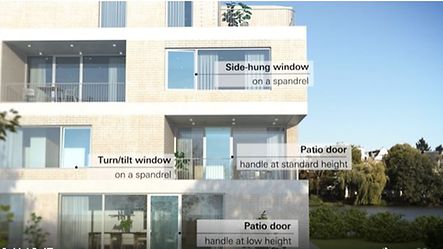 The AWS barrier-free window system offers a high degree of flexibility and is extremely versatile. Whether it's handle height, ease of operation or a level threshold, windows and window doors can be designed to be barrier-free throughout the project. It is also possible to choose between side-hung windows, turn/tilt windows or even floor-to-ceiling units.
✓ Patio or balcony door with level threshold and easy operation
✓ Side-hung window on a spandrel with easy operation and horizontal handle
✓ Turn/tilt window on a spandrel with easy operation
✓ All designs have a low handle position
We would be happy to support you with the planning. Contact us now!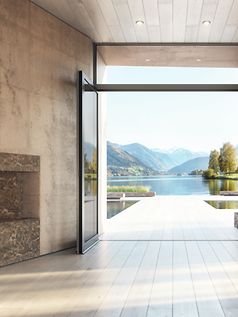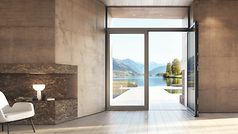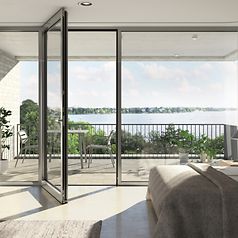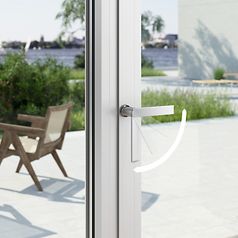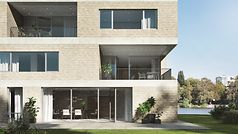 Register now..
Work material (e.g. tender specifications, BIM objects, CAD data, catalogues)
Note content
Direct contact to Schüco