Configurators and Apps
Schüco for when you are on the move. Take advantage of our Apps to find out more about our products or completed buildings.
Configurators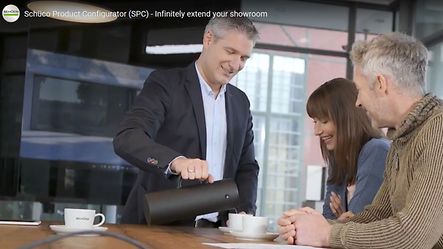 Schüco Product Configurator
Discover limitless possibilities for your sales consultation: Size, surface finish or security – with the Schüco Product Configurator, you and your customer can configure bespoke system solutions in no time at all.
Impress your customers with attractive product visualisations of Schüco units and create an individual quotation at the touch of a button thanks to the integration of SchüCal.
Are you interested?
Please contact your Schüco sales person or send an e-mail to info@schueco.com.
Key benefits at a glance:
High-quality product visualisation on an ultra HD monitor (4K)
Automatic technical checks provide planning reliability
Parallel price calculation with quick quotation creation
Accelerated order processing thanks to SchüCal integration
Impresses customers with photo-realistic representations
Enormous range of products means greater customer satisfaction
Downloads: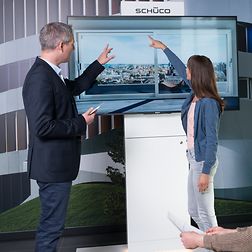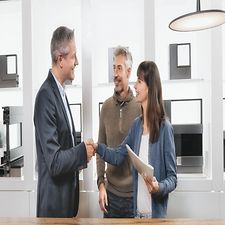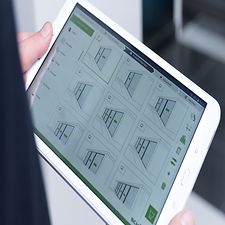 Apps
Schüco References App
Together with its worldwide network of partners and architects, Schüco creates sustainable building envelopes. Schüco has now developed an App which provides you with inspiration and all the information you need about the industry. Browse through the international reference projects that interest you, receive a notification when you are near a Schüco project, or use the App during customer presentations.
The Schüco reference project App shows you where Schüco products have been used via the map feature or push notifications. A simple way to find out what Schüco is contributing to building solutions. Discover the building envelopes of the 21st century in the gallery. Save and manage relevant reference projects directly in the App and add your notes to them.
An overview of all the services:
Map view with Schüco reference projects in your vicinity.
Push notifications about nearby Schüco projects.
Search for a reference project using key words, a filter or the navigation menu.
Gallery with projects from all over the world and information about the series used.
Detailed product information and 360° view.
Personal workspace with your own wish list, individual folders and notes.
Use the App for presentations.
Personal contact with your Schüco specialist adviser.
Exciting added value: inspiring articles from all areas of everyday life and the world of work – keep up-to-date with the Schüco reference project App.
Schüco 360° Viewer App
Immerse yourself in a three-dimensional environment with the Schüco 360° Viewer app. This app makes you feel like you are actually at the exhibition stand, showroom or reference project.  Explore the 360° panorama and download additional information on products and projects.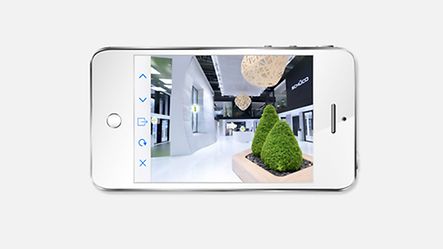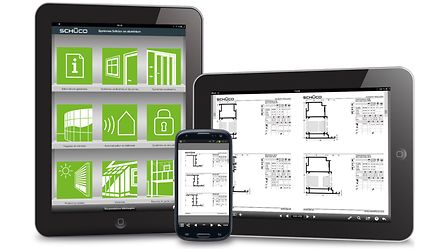 Docu Center App
The Schüco Technical documentation App is a helpful addition to many everyday business situations. Whether discussing a construction project, planning a job, in the workshop or on site - the latest information can be accessed directly and sent immediately by e-mail.
With the Technical documentation, there is a focus on short paths and real-time information, as well as fast navigation within a technical manual and up-to-date data.
The Schüco Technical documentation App is available for the Android, iOS and Windows operating systems and enables the user to easily access technical documentation and Architect Infos from Schüco. Clearly sorted by category in a kiosk, documentation can be easily viewed or downloaded onto the end device. The manuals are also available when there is no network coverage.Manuals that have been previously downloaded can be easily updated. There is no need for the time-consuming addition of supplements. And there is a clearly structured contents page for fast navigation within a manual.
Still don't have a user account?
Many benefits as a registered user:
Work material (e.g. tender specifications, CAD data, catalogues)
Software & Tools
Note content
Direct contact to Schüco