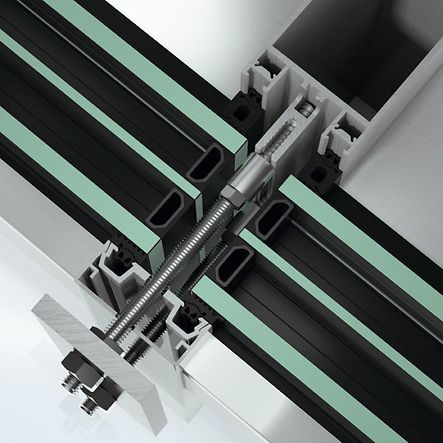 High-performance mullion/transom façade with 50 mm face width – the basis for a variety of solutions
The Schüco FWS 50 façade system is an impressive basic system for façades and skylight areas with a high level of flexibility and attractive design options, including optimised fabrication and installation processes. Thanks to a broad system range, solutions for the most varied requirements and applications can be implemented.
A transparent system solution integrated in the profile for spandrel safety barriers blends seamlessly and elegantly into the external façade appearance. The required safety barrier loading for floor-to-ceiling opening units and low spandrel heights can be implemented with consistent profile face widths and a continuous profile.
The mullion/transom façade with 50 mm face widths offers a high degree of design freedom with a large selection of pressure plates and façade cover caps as well as the combination with Schüco window, door and sliding systems.
System-optimised components guarantee the simple and reliable integration of electrical components, e.g. for automated Schüco door or sun shading installations.
With the mullion/transom façade, Schüco is once again fulfilling its obligation to create ecologically sustainable products. The Schüco FWS 50.SI (Super Insulated) system option has been awarded the Silver "Cradle to Cradle Certified™" sustainability label by the independent C2CPII institute in cooperation with EPEA in Hamburg for its recycling properties and minimal toxin content.
Planning benefit
Profile-integrated spandrel safety barrier for floor-to-ceiling opening units and low spandrels ensure a minimalist and harmonious façade appearance
Wide selection of pressure plate profiles and façade cover caps, also in stainless steel, for the most varied of design requirements
Integration of diverse insert units from Schüco window, doors and sliding systems
Register now..
Work material (e.g. tender specifications, BIM objects, CAD data, catalogues)
Note content
Direct contact to Schüco