Spoilt for choice: newbuild or modernisation?
Rising rents, decreasing interest rates, and ever smaller living space are all prompting many renters to make the move towards becoming homeowners. Looking for the perfect plot of land or a suitable property poses the question: newbuild or renovation?
It's not an easy decision to make, as both options have their advantages and disadvantages. Financial arguments and whether the property meets personal requirements often affect the decision. If you're looking to adapt your home completely to your individual tastes, then a newbuild is perfect. Be it room layout, design or fixtures and fittings, the client can configure their newbuild to their personal requirements and doesn't need to compromise. Today's standards for modern living have, after all, changed. Old buildings with narrow staircases, small rooms and a lack of ease of access no longer fit with the times. Building automation is a hot topic and will be in future too. Implementation often proves to be much easier with newbuilds, as the necessary shafts and cable channels can be installed directly. In light of advancing climate change, energy efficiency is also increasingly important. Well-insulated properties not only protect the climate, they are also kinder on your wallet.
Modernisation – an impressive example
An unusual approach to design led architect and client Erika Werres to a holistic concept for a modernised family residence. From the carefully selected surface coating of the profiles for the many and varied Schüco system windows she developed ideas for colours and materials for almost all of the visible surfaces in and around the building. The result is as coherent as it is elegant.
A comparison of before and after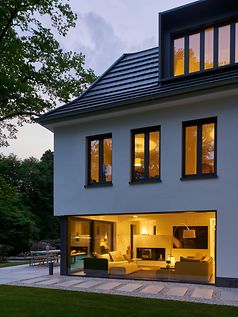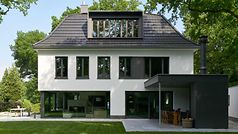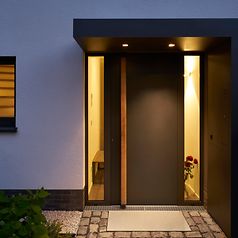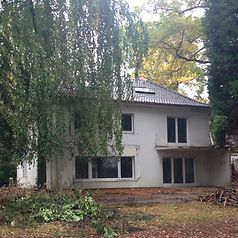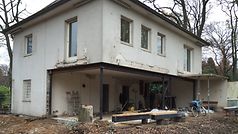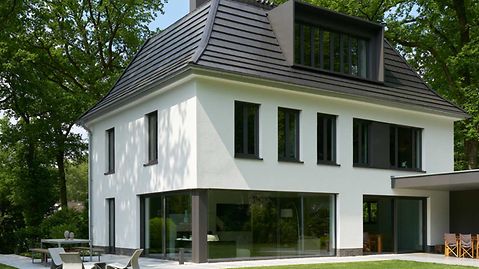 When does modernisation make sense?
Construction space is scarce. It is particularly difficult to find a suitable building plot in inner-city areas. The solution is to buy an existing property. The condition of the house to be renovated plays a decisive role here. If only the windows and doors need to be replaced, then renovation is often worthwhile. To find out whether this is the case, it is worth having a surveyor look at the house before you buy it, as they will be able to tell you about the renovations that are necessary and give estimations of how much this work would cost. The client can also add their own touch to an existing building too. Walls can be taken out, the bathroom redesigned or an extension added. The benefit is that you don't need to renovate everything at once; the building can be modernised gradually depending on your cashflow. Moreover, homeowners often also benefit from a new garden, a paved driveway or a garage, which would all put a strain on the budget with a newbuild. If the building is listed or the plans are to make it more energy efficient with the modernisation, then homeowners might be able to get government funding. The current development plan may also speak in favour of modernisation if the guidelines differ for newbuilds and existing buildings.