Specialist areas
The Schüco Technology Center in Bielefeld is one of the world's largest test centre for window, door and façade technology. It is a symbol of how we optimise the quality, reliability and durability of all Schüco products. 
Calibration laboratory
Calibration laboratory
MEASURING UP TO THE HIGHEST STANDARD
At the Technology Center (TC), calibration is the interface between the other specialist areas because here everything revolves around test technology – that is the (measuring) devices, test rigs, systems and software which are used in or required by the Technology Center. A central task of this area is the monitoring of test equipment.
This is why most of the calibrations for the test equipment monitoring are carried out in the company's own DAkkS calibration laboratory, which, using traceable reference standards, is able to make precise DAkkS and factory calibrations. This is because, as a DAkkS calibration laboratory, the Technology Center falls under the direct jurisdiction of the National Metrology Institute (Physikalisch-Technische Bundesanstalt), the highest authority of its kind in Germany. For the electrical measured values (current, voltage, resistance), mechanical measured values (pressure), thermodynamic measured values (temperature, humidity) and flow rate measured values (air and water flow), the highest level of calibration is performed here.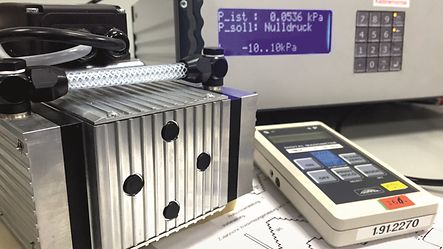 Building acoustics
Building acoustics
SOUND INSULATION OF THE ORIGINAL COMPONENT
The sound reduction requirements with regard to external noise can only be ensured using laboratory measurements, particularly for complex façades. Similarly, reliable sound insulation between rooms can only function if noise transmission is prevented by the external façade. Schüco is not only able to test this accurately on original components in the Technology Center, but can also find out the causes of any defects in order to subsequently improve the component. This is particularly important for the sound reduction of systems which can be used flexibly to partition rooms in office buildings, for example. For even once interior rooms have been converted, confidentiality should be guaranteed by means of sound reduction, particularly in sensitive areas. For realistic measurements in the area of building acoustics, four rooms which are independent of one another are available, which are also acoustically insulated from vibrations in the rest of the Technology Center.
Furthermore, the portfolio of the building acoustics area includes emission measurements of components which emit sound, such as electrically-operated fans and fittings, as well as room acoustics measurements. Schüco provides building consultants, metal fabricators and architects with advice on complex issues relating to building acoustics. Schüco also takes measurements on site to ensure the fabrication and installation quality, or for the acoustic separation from other areas. There are also joint tests for special solutions or specifications for feasible acoustic requirements.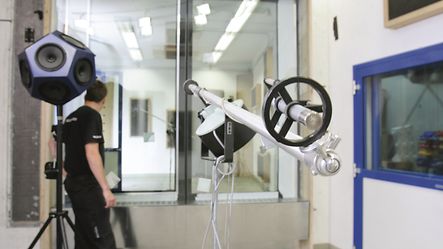 Bending, Tensile and pressure tests
Bending, Tensile and pressure tests
EVERYTHING ON SHOW
Schüco has a tradition of carrying out its own component and material tests. Testing began in 1967, and in 1968 the first second-hand universal test machine was acquired from TU Berlin. Today, in addition to static and dynamic pressure, bending and tensile tests, the mechanical performance of thermally broken outer and vent frame profiles is also tested. The tests are carried out at room temperature and between -20°C and +80°C in a self-contained measuring room. The ageing of test specimens under defined variations in weight and temperature is also tested over a period of up to 1000 hours.
Tests for which no standards exist can also be carried out. For example, these are to work out the test values for the structural calculation of joints. These are calculated in agreement with the client, not just for components and materials, but often also for environmental simulations, and also in the other test areas of the Technology Center, if required.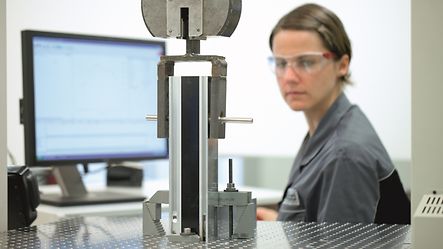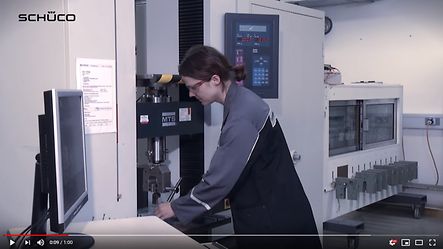 Watertightness Tests
Watertightness Tests
HURRICANES DON'T STAND A CHANCE

In the Technology Center, Schüco has the largest indoor façade test rig in Europe. In the newly built 18 m high hall, joined façade units up to 21 m in width and 13 m in height can be tested. This allows Schüco to test larger and more complex constructions than ever before in a realistic way. The extension is a big step towards meeting the growing demands of customers in the long term. In addition to information on the fabrication and installation quality, these tests allow the construction quality of special solutions to be assessed at an early stage. Additional tasks performed by Schüco include error analyses and a wide variety of consultancy services.
Weathertightness testing, from individual components through to complete façade units, includes watertightness, air permeability and wind load tests. For façade tests, the dynamic wind load is tested, whereby in addition to draining rainwater, a strong, turbulent stream of air from outside is built up. Seals are also tested by simulating ceiling movements, or safety barriers in the event of the entire building moving.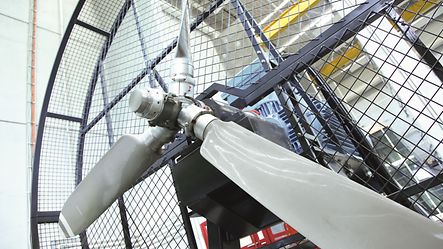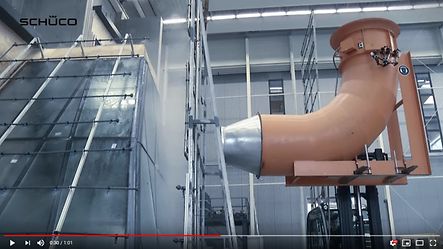 Electromagnetic compatibility
Electromagnetic compatibility
SAFE ELECTRONICS AND A HIGH LEVEL OF BUILDING PROTECTION
All Schüco products fitted with the company's own electronic components or third-party products must have proof of their electromagnetic compatibility. This requires the interference immunity and interference emissions of the components to be tested in line with the standards. It ensures that there are no malfunctions and no harmful electromagnetic waves are emitted. At the same time, protection rating tests verify whether components are sufficiently resistant to environmental factors, such as dust and water, or whether hazardous and live components are adequately fused. This is how Schüco is responding to the sharp increase in electrically operated, controlled and energy-generating façades, windows and doors. All the tests are already carried out at an early stage during development, but also on projects that are already complete.
The IP protection rating tests encompass all the tests that are relevant for Schüco products, such as resistance to dripping, spraying and splashing water (IPX1, IPX2, IPX3 and IPX4), protection against access to hazardous and live parts (IP1X, IP2X, IP3X, IP4X), dust protection (IP5X and IP6X) and the immersion of test specimens in water (IPX7 and IPX8). They allow the company's own products or those from third parties to be evaluated clearly and ensure reliable operation.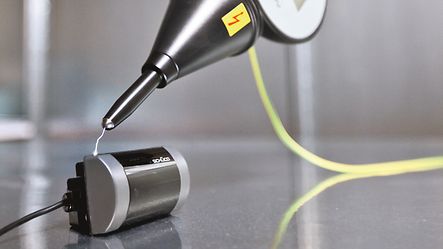 Mechanics and Durability
Mechanics and Durability
FOCUS ON QUALITY
A key issue for the Schüco Technology Center is the area of mechanics, durability and safety. This is where windows, doors, sliding systems, sun shading blinds and electric drives are subjected to durability tests. During the test, windows reach up to 20,000 opening and closing cycles, and doors up to one million. Modern test rigs which create opening widths of up to 180° are used for this. In addition, two industrial robots are available for more complex movement sequences and opening types. Individual window handles, cavity-fitted gearboxes, rollers and tubular motors are also tested on special test rigs. As windows and doors are exposed to many other stresses, individual components are subjected to stress tests such as vertical loads, torsion tests, strike tests and overloading.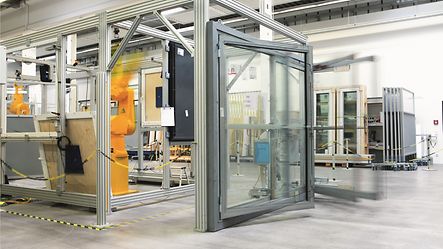 Safety Test
Safety Test
SAFETY THROUGH BULLET RESISTANCE
On the ballistics test rig, test samples are shot at using various projectiles from different angles and distances of up to 20 m. If the result is positive in terms of the standard, this results in classification in one of the bullet resistance classes FB1 to FB7. They apply to all bullet-resistant units which can be fabricated from Schüco window, door and façade systems. This ensures that when a shot is fired, the projectile does not penetrate the interior, nor does the material or glass splinter on the inside of the test specimen.
Schüco performs a preliminary test that conforms to standards in conjunction with its own ballistics tests. For this, the bullet speed must also be accurately measured. For a full metal jacket spitzer bullet, this is up to 950 m/s, which is almost three times the speed of sound.
Pendulum impact tests and burglar resistance tests up to class RC 5 are also performed.
The utmost confidentiality is ensured by the physical separation from other departments.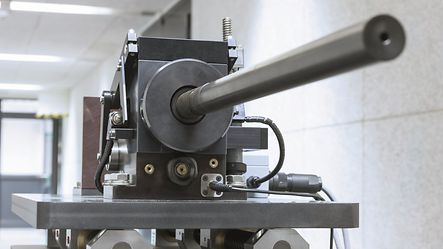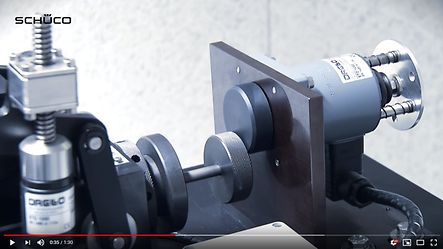 Enviromental Simulation
Enviromental Simulation
A CLOSE EYE ON EVERY CLIMATE
When reliable statements on climate issues relating to the building envelope are needed, environmental simulation tests are absolutely essential. The same is true for information regarding the ageing behaviour of materials, surface finishes and products due to heat, cold, humidity, UV light and corrosive media. The Schüco Technology Center has a wide variety of options available to achieve this.
The differential climate chamber for components and complete units up to a size of 3000 x 3000 mm is completely new. Differences in temperature and humidity between the inside and outside are simulated in the special construction made for Schüco. It even allows bulky components to be tested under all humidity conditions.