"FACID makes a statement"
The demand for functional, flexible façades continues to increase. This makes it all the more important for architects, investors and building users to be able to enjoy new creative freedom. FACID makes it possible to create adaptable façade concepts which can be used to showcase a range of different buildings structures in a more attractive way. This exceptional, functional design freedom means that the textile façade offers sophisticated system technology with significant benefits. The result is an impressive, intelligent solution which meets the increasing requirements for architecture.
FACID combines the advantages of curtain walling with almost unlimited design options and a high degree of flexibility for architects, investors and users of the building.
The flexible uses of FACID mean that the façade can be adapted and shaped to fit a wide range of supporting surfaces. This creates unique designs which can be quickly adapted while the building is operational thanks to the use of system profiles. A number of different building structures such as car parks, office complexes, shopping centres, multi-purpose properties and public buildings can be showcased uniquely and economically using FACID."
 
In the interview, Herford-based architect Karsten Schlattmeier talks about his job, his experience with FACID and the potential of textile façades for the buildings of the future.
Mr Schlattmeier, what attracted you to a career in architecture?
The design freedom and sustainability are what fascinate me in particular; projects designed by architects endure and stand the test of time. To live out the creative freedom I started at my father's architectural practice 26 years ago after working as a project manager for Behnisch & Partner.

What are the challenges facing modern building architecture today?
Architecture always reflects the societal trends of our time. Over the past few years, awareness of sustainability has increased in particular.

How did you become aware of FACID in your planning processes?
As a design-focused architectural practice, we are naturally on the lookout for creative ideas at the market. While I was working on a project in China, I attended EXPO 2010 in Shanghai, where I was able to see the unique FACID building envelope in person at the German pavilion.

What is it about the patented clamping system that impressed you then and continues to impress you?
In Shanghai I could clearly see the effective sun shading and heat gain reduction behind the façade. FACID achieves this level of protection while ensuring maximum transparency and ventilation. A tensioned textile façade in front of  a wall creates an effect of depth for the observer. It results in a translucent appearance with the structure behind the façade remaining visible.

Which projects have you designed with FACID?
We first used FACID for a newbuild of the headquarters of fashion designer Bugatti, so that we could install weather-resistant ventilation units in the façade and cover the transparent link bridge with sun shading. The car park at the Schüco campus in Bielefeld  was also designed using FACID in partnership with 3XN. The way the light plays on the textile façade makes it an eye-catching building that has generated a great response. The specially coated fabric guarantees the mandatory level of fire protection required for a car park with steel in fire resistance class F0.

What opportunities are there for architects if they use FACID when designing their buildings?
FACID has enormous potential to revitalise  the appearance of existing building shells. Textile façades create a defined transparent shell which can be used to intelligently network new and existing building structures. Plain, industrial buildings can also be made attractive. A car park, for example, which is very robust and structural, can be given an entirely different look.

What potential do you see for FACID in the future?
FACID unleashes real added value for buildings – and for clients, who can show that they are innovative while also making design statements. With Schüco, you have an internationally renowned partner behind the product that works closely together with the architect. Thanks to the existing resources at Schüco, FACID is always being improved – we were able to implement the development  potential together in the car park with impressive results.
Car park at the Schüco campus in Bielefeld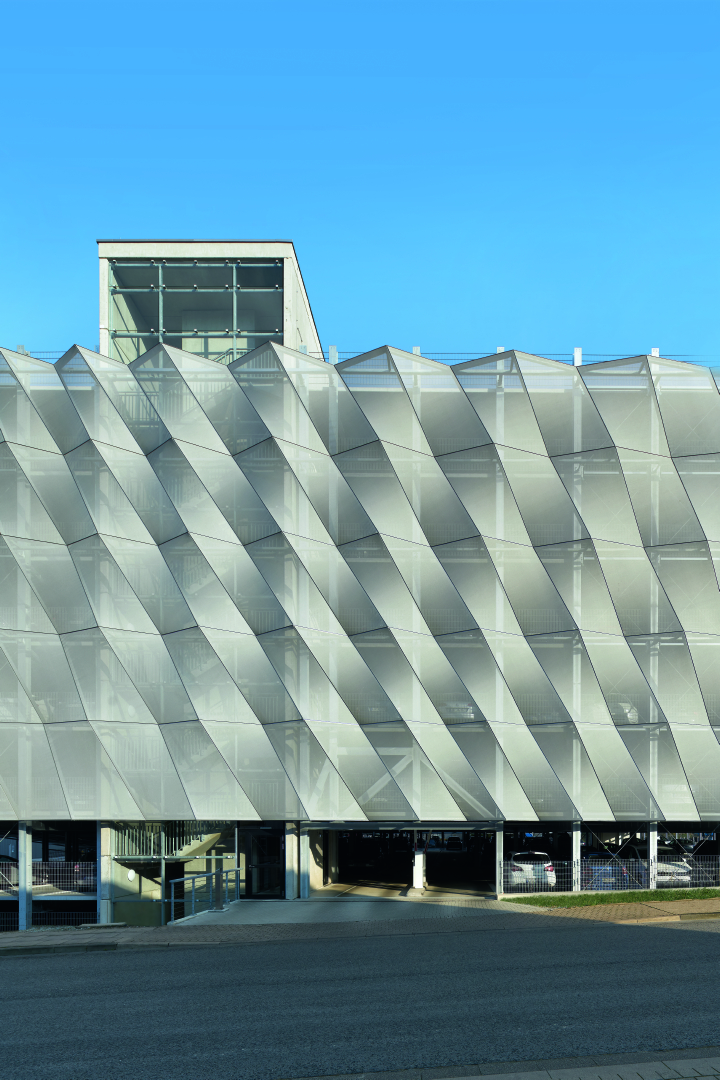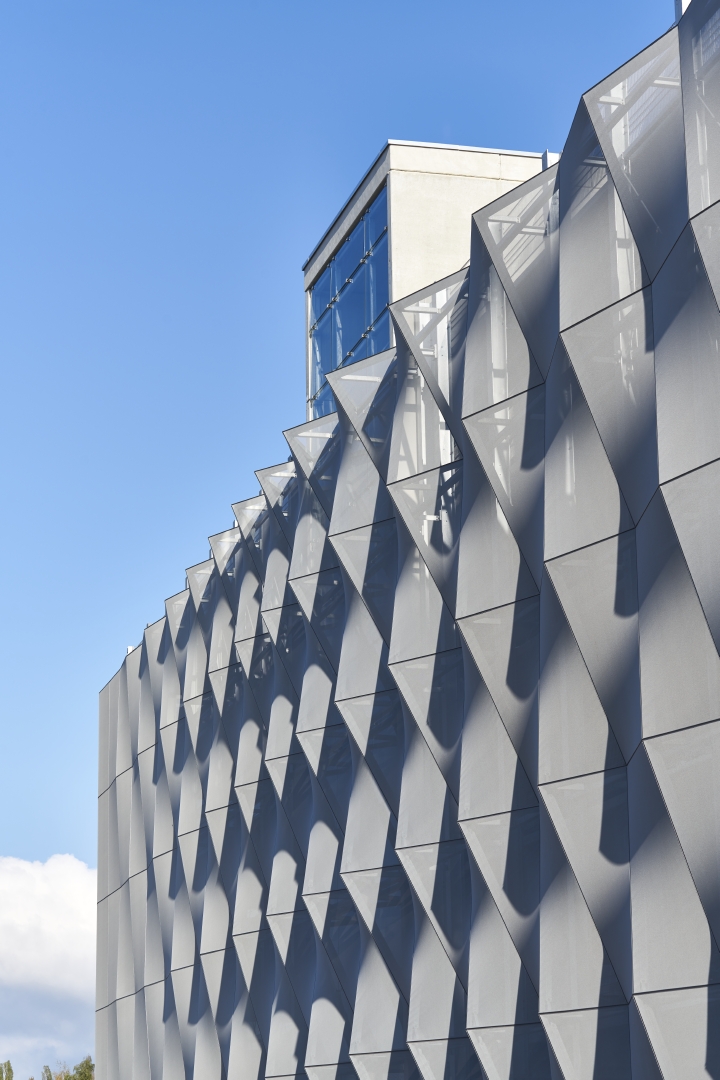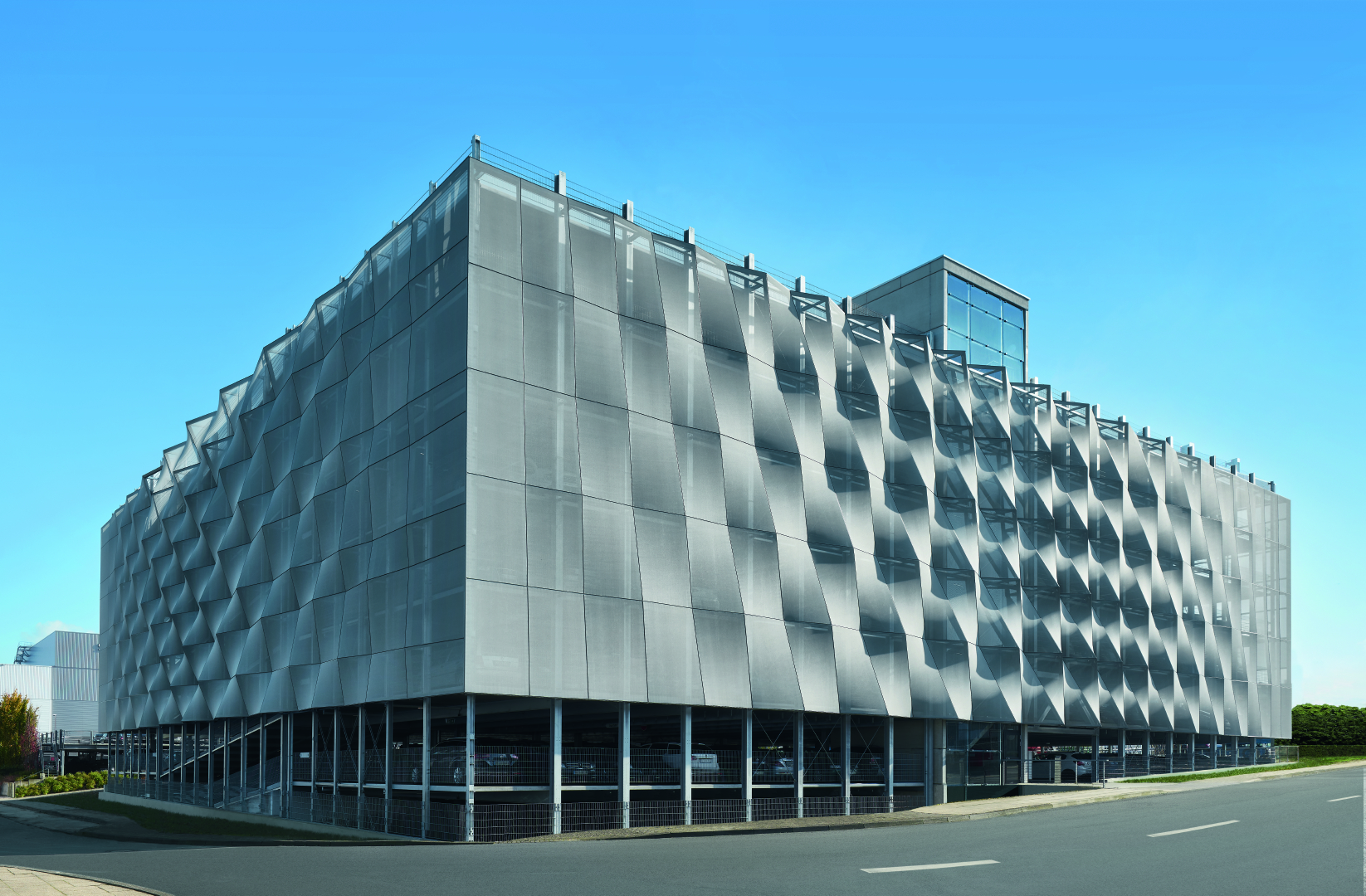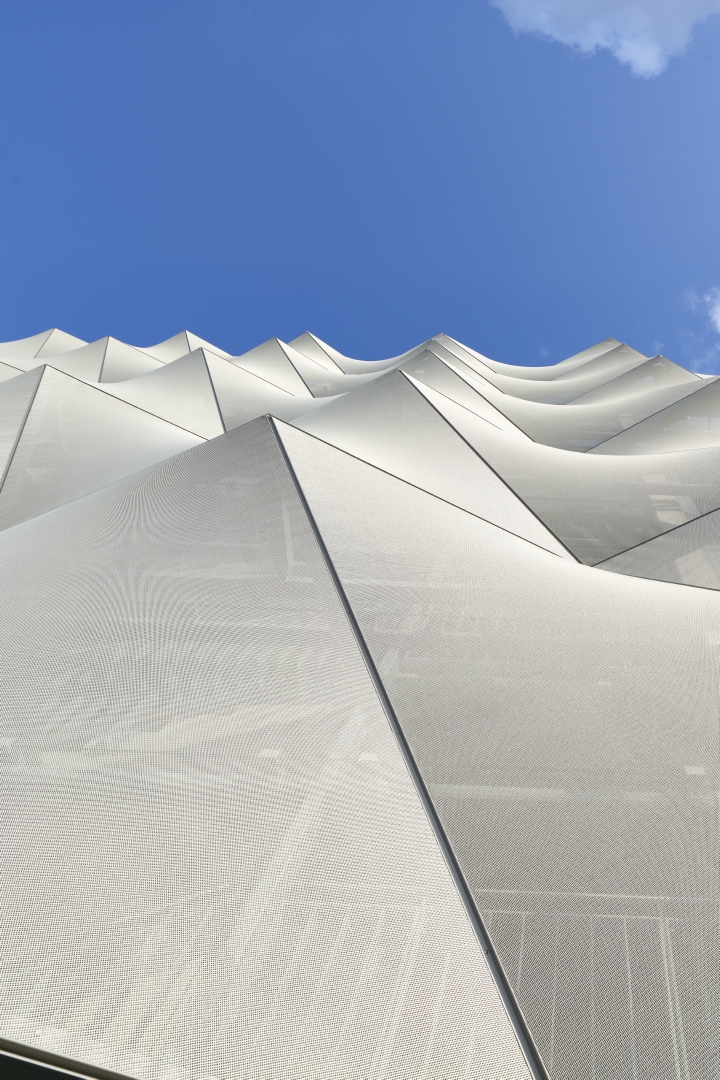 Architect: Schlattmeier Architekten, façade conception in partnership with 3XN
Photographer: Christian Eblenkamp
More information: www.schueco.de/facid
Register now..
Work material (e.g. tender specifications, BIM objects, CAD data, catalogues)
Note content
Direct contact to Schüco