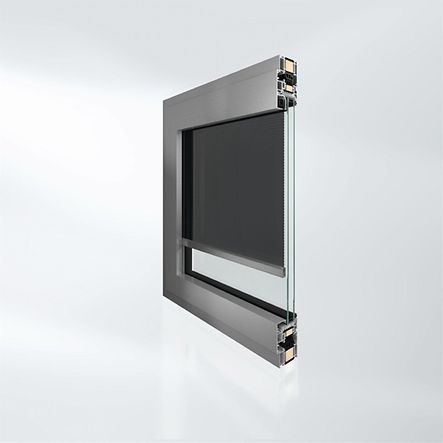 Concealed sun shading, glare protection and screening – fully integrated in glazing beads
The Integralmaster sun shading system is an internal roller blind solution without bulky cassettes or lateral guides. The roller blind cassette and glass retention bead, as well as the lateral guide and glass retention bead are designed as a single component – in contrast, conventional roller blind systems consist of four components. This permits fully integrated and almost completely concealed installation in all Schüco AWS (Aluminium Window System) window systems, without compromising the interior aesthetics of the building.
Different film and textile blinds that can be freely chosen and combined with one another are available for sun shading, glare protection and screening in line with requirements.
The wind and weather-resistant system can be operated mechanically or electrically: in the electric version, the roller blind integrated in the bottom glazing bead is raised by means of SMI (Standard Motor Interface) motor technology. The manual option is operated using a chain hoist, which pulls the blind installed in the top glazing bead downwards. The curtain moves from top to bottom in both the electric and the manual version. This simple design is also suitable for retrofitting or renovating older window systems.
The Integralmaster meets all national and EU guidelines on glare protection for workstations. Outstanding performance values can be achieved thanks to its special construction and twin function of glare protection and sun shading: in addition to improved thermal insulation, the system offers a reduction in glare of up to 97% and a reduction in energy irradiation of up to 85%.
Planning benefit
The interior design of the building is not compromised by retrofitted sun shading, glare protection or screening systems
Greater design freedom for window areas and reduced planning complexity: if external sun shading cannot satisfy the required specifications of the German energy-saving regulations (EnEV), the specifier needs to make the window areas smaller as a result. The combination of both systems, external sun shading and internal Integralmaster, can easily meet the EnEV specifications, even in extreme situations
Concealed lateral guide in the vertical glazing bead prevents light entering from the sides
Optional sun shading function with views to the outside or, depending on the blind material selected, also in combination with screening
Roller blinds are fully operational with the window open
Register now..
Work material (e.g. tender specifications, BIM objects, CAD data, catalogues)
Note content
Direct contact to Schüco