What internal glazing can do for your home
With many of us having spent much more time at home during the last eighteen months, we're beginning to rethink the layout of our homes and the way we use spaces.
The trend for the last few years has been to knock down walls and create open plan spaces, allowing families to spend time in the same space even when doing different activities.
However, working from home in a communal space can be tricky, and with home working set to stay, at least part time, for the foreseeable future, a solution is needed.
Natural light
An answer for these woes can be found in internal glazed doors and walls. They provide you with a separate, quieter space to work while still allowing you to be able to see and interact with your family.
Many of us have had to create makeshift home offices in a spare room also, often the smaller rooms with smaller windows, meaning little light gets let in. With an internal glazed door, you would have the added benefit of more light being allowed to flow into the room.  
They don't just need to be for home offices either. Internal glazed doors and partitions can separate the entrance hall from the living space, the kitchen from the dining area, or perhaps a stylish vestibule, without compromising on space. This is important for open plan homes, as a key benefit of their design is the feeling of space.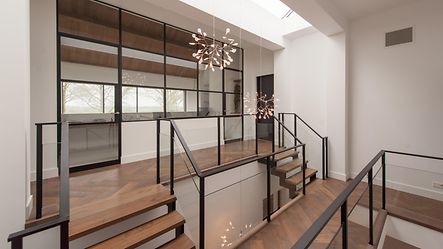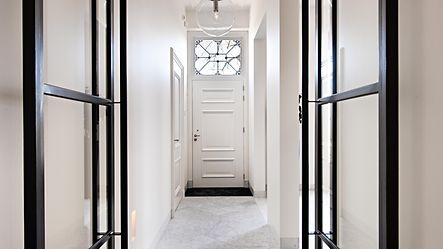 The use of glazing has traditionally been used exclusively for the exteriors of a building, but expanses of glass within the home can offer a new way of living. They can provide a separate space yet still create a sense of connection.
Steel internal glazed doors and walls, such as Schüco Jansen Art' 15, can help create elegant and luxurious interiors. The inherent strength of steel allows extremely slimline profiles to be constructed across very wide spans, enabling narrower sightlines with larger areas of glass. This gives you endless possibilities for maximum creative freedom.
Of course, you may be asking how effective glazed walls are at reducing external noise. The answer is, surprisingly good. The Art' 15 system provides sound reduction values of up to 44dB for fixed glazing and 37 dB for a single-leaf door, sufficiently muffling noises around the house.
Reconfigure your living space
Internal windows can also be used to punctuate vertical expanses, allowing for a lighter room while also creating a sleek and modern aesthetic. For those of us with larger, younger families, internal windows may also offer a more practical solution than glazed doors and partitions.
So, if you've been thinking of a new layout for your home, consider how internal glazed doors, partitions and windows may work for you. To find out what Schüco can do for your home, email mkinfobox@schueco.com or to make an appointment to visit the showroom click on the button below.