Intelligent products to make your home smarter
Schüco has developed inspiring, intelligent, interconnected products and systems to make your home a smart home – whether it be a new build or an older property. Discover the latest technology.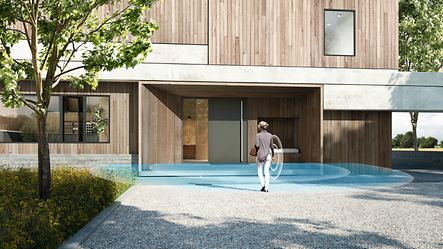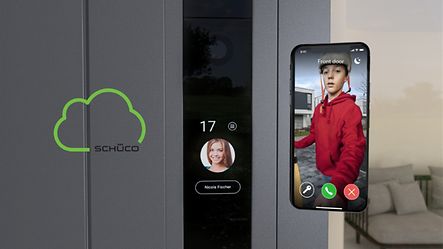 Your home could be smarter than you think
The overwhelming majority of us live in a home built within the last 70 to 100 years. It was only in the 1970s that the first technology that would later be called 'smart home technology' began to appear, with it truly taking off in the last 20 years.
So, most of us are retrofitting homes that were never designed for this level of technology – but that doesn't mean that they can't be just as smart as the new builds on the block.
Schüco offers you inspiring, intelligent and interconnected products and systems to make your home smarter.
It starts at the front door
The Schüco Door Control System (DCS) is a unique modular door management system for door communication and access control. It combines convenience and security with the latest technology and is very easy to use. Individual components of this system are also available for your existing front door – so if you already love your entryway, no major design changes have to be made to bring your home into the future.
For example, the Schüco Fingerprint Easy allows you to open your front door with your fingerprint. The biometric fingerprint access system for internal and external doors is extremely simple and convenient to use, and has an elegant, timeless design. The slanted sensor face ensures that finger placement is intuitive, while internal relay contacts provide the system with the best possible defence against sabotage, too.
Further to this, Schüco BlueCon is an access control module that allows you to operate your door using your smartphone. The connection between lock and smartphone is established via Bluetooth and opens the door automatically as you approach, even when your phone is in your pocket. This has no negative effect on your front door as the BlueCon module is concealed and almost invisible in the door rebate on the inside, which also protects it against rain.
Our latest technology even includes the option to insert a microchip in your window or door that stores product information and can advise when it requires maintenance.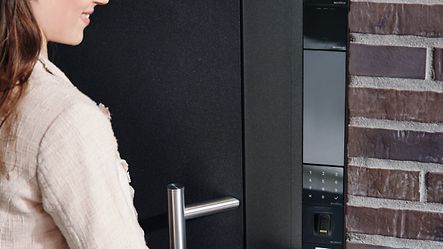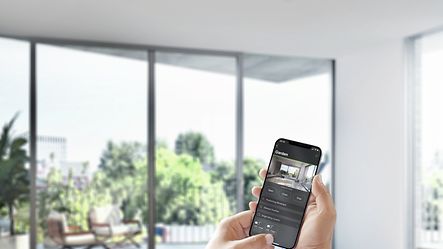 Rethink your windows
When it comes to windows, a huge variety of functions and solutions are available at the touch of a button, enabling you to automatically ventilate rooms or activate electronic sun shading and glare protection for your home.
With Schüco TipTronic SimplySmart, pressing a button is all it takes to operate your windows, whether they be heavy, sliding windows and doors on a modern home, or smaller more discreet installations on your period property. If the weather becomes unpleasant, the integrated weather sensor closes all of the windows automatically. Various functions such as night-time cooling or timed ventilation also function in a way that conserves energy. Mechatronic fittings can be integrated in almost all Schüco window systems in a diverse array of opening types, too.
Of course, the most important element to any planned opening in a home is the security it will offer and the safety of its operation – especially if you have kids.
Schüco TipTronic fittings use modular security locking to lock the window at multiple points and ensure significantly increased burglar resistance. Magnetic switches are used to monitor and provide feedback on windows linked to the building management system and to any alarm systems, while integrated finger-trap protection allows the window to automatically reopen if any kind of obstruction, like fingers or clothing, is encountered when the window closes. For particularly stringent requirements, (for example, schools and nurseries) Schüco also offers finger-trap protection with a sensor strip that reacts to even the slightest contact with any part of the frame.
These systems can be operated in a variety of ways, ranging from simple buttons through to apps for smartphones and tablets.
Smart home solutions make our lives more convenient, comfortable and efficient; protect your health and your home and increase and retain property value in the long term, too. See what we can do for you: https://www.schueco.com/uk/homeowners/smart-home
If you want to transform your home into a Smart Home, you can make an appointment to visit one of our showrooms or find your nearest registered Schüco supplier on our website. If you would like to know more about this process, get in touch via the chat function on our website or email mkinfobox@schueco.com or to make an appointment to visit the showroom click on the button below.