Creating your forever home
Investing in a home renovation isn't something that happens often, so when you do it's wise to consider how future-proofing will help as your family grows and as you get older.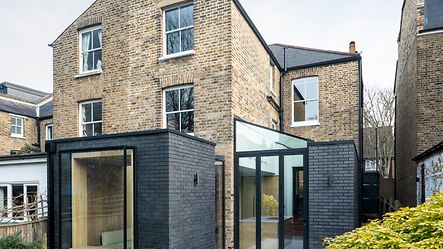 If you want to stay in your property for a long time, it makes sense to keep durability and maintenance in mind also. Metal framed windows are the best choice in this scenario, as they require less long-term maintenance that other materials.
Having large bifold or sliding doors that open up into the garden provide an opportunity for inclusive design if movement is restricted and accessibility becomes an issue. They create sightlines and underpin the connection from the garden through the house, as well as allowing plenty of natural light to flow into your home.
Creating a building that is barrier-free makes the living space very comfortable and convenient. This benefits not only people with limited mobility but also the elderly and families with young children. Available with our range of entrance doors, bifold and sliding doors as well as the AWS barrier-free terrace door, our level threshold system allows inside and outside to merge into one living space.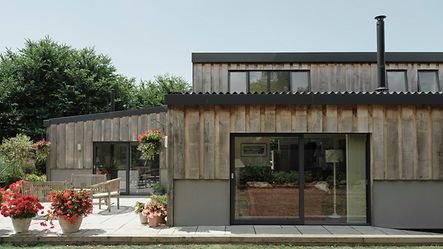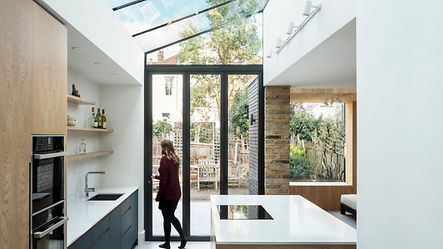 A great example of a stylishly a future proofed home which benefits from a flat transition between inside and out is the renovation of this semi-detached Victorian home. The homeowner stated: "I now realise the absolute power that a well-designed room has on one's spirits. I practically live in the kitchen now. I can come down in the morning, even in the deep recesses of winter, and come into a place bathed in light and warmth – it lifts the spirits instantly."
Ensuring you have up to date technology in your home is also essential for future proofing. Smart technology can make your life more comfortable, as well as keeping you safer. Electric locks and automatic doors create a seamless smart environment that removes unwanted stress.
With Schüco TipTronic SimplySmart, pressing a button is all it takes to open and close windows and even large, heavy sliding units. What's more, if the weather becomes unpleasant, the integrated weather sensor closes all of the windows automatically. The quiet unit is concealed in the frame and maybe activated either by a multi-function pushbutton on the handle, a wall-mounted switch or a remote controller.
The "night-time cooling" ventilation function in electrically operated windows allows natural air conditioning without any additional energy costs. To optimise use of the night-time cooling, integrated sensors are coupled with internal and external temperature sensors and the windows are opened or closed depending on the temperature conditions. 
For entrance doors, the Schüco BlueCon access control module has all the answers. A Smartphone app (downloadable from Android or iOS), enables complete keyless operation, activating the door lock when the user is four metres away. It can also be programmed to enable entry by your children, your au pair, your cleaner or tradespeople.
So, if you're wanting to create a forever home that is future-proofed for all your potential needs, consider how large expanses of glazing and smart technology can help achieve your aims, email mkinfobox@schueco.com or to make an appointment to visit the showroom click on the button below.