Are bi-folds the new sliding door?
If you are building your own home, extending or renovating, the thought to include glazed doors in your living areas has almost certainly crossed your mind. More often than not the next question is do I want bi-fold or sliding? There are benefits to both, and one door type may work better in a space than the other, so it can be an easy choice.
For example, there may not be enough room for a bi-fold door to stack when open in your home or it may scupper your plans for that outdoor lounge on the patio. However, for those with the space, the answer isn't as simple anymore with new bi-fold and sliding door models from Schüco.
Our latest bi-fold door range offers the slimmest frames and largest panels of any Schüco bi-folding model. The option to have floor to ceiling panels up to 1500mm wide and 3500mm tall means you can achieve large expanses of glass similar to many sliding door systems. While the 90mm sightlines means that when the bi-fold door is closed there is minimal obstruction to your view.
When opening bi-fold doors you are effectively removing an entire wall of your home, creating the ultimate connection to your outdoor space. Combining that with the option to have a flush threshold makes that connection seamless, allowing you to fully embrace indoor-outdoor living.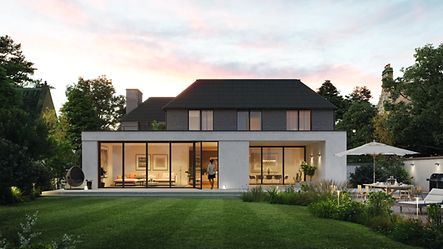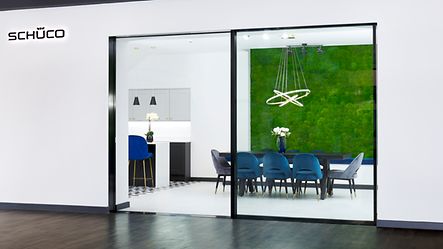 So, bi-folds are best for a flawless transition between inside and outside and now can let more light into your home with an improved view out. But, to maximise that view, sliding doors are still the better option, and that is due to sliding systems like the new Schüco panoramic door offering ultra-thin 35mm sightlines and invisible frames.
Top and side door frames can be integrated into the walls so they won't be seen, and panels can be as large as 3500mm wide and 3500mm high. Picture that, a near-unobstructed view into your beautifully kept garden or over that stunning vista.
Offering a multitude of customisable options across its three product lines the new Schüco panoramic door is fully optimised for access, design and performance. It also comes in a wood finish for homes with an organic aesthetic, so you can now get that natural look as well as the benefits of an aluminium door like enhanced thermal efficiency and robustness.
Our latest sliding folding products can achieve super-large panels that contain heavy glass, but both are easy to operate. High-quality German engineering ensures our doors are just as easy to manually open and close as narrower alternatives. Our panoramic door can also be operated via a switch or an app providing even greater convenience.
All Schüco bi-fold and sliding doors offer lasting quality, comfort and security, so the choice between the two is yours. Our bespoke bi-fold doors offer the ultimate connection to the outside and now let more light in than ever with a minimally interrupted view outside. But the new, ultra-sleek sliding system will offer the best panoramic views.    
Find your local Schüco partner for advice and to enquire about a set of high-quality aluminium bi-fold or sliding doors for your home.