Bi-fold or sliding doors?
Four in five UK homeowners plan to make changes to their homes in the next 12 months according to Santander's 2021 home improvement study. The bank also analysed local authority planning applications and found that the most popular extension application type by far was for single storey extensions.
One of the trends shining through many of these home improvement projects is the demand for big sliding doors and windows, allowing natural light and ventilation to flow into and through our homes.
A lot of our developments are extensions to existing dwellings, often to the kitchen/diner area. Both light and airiness are key in these projects, so many of them are installing our large bi-fold and sliding doors, with stunning results. 
Natural light and ventilation
Bi-fold doors can open up to 95% of the actual opening, entirely removing the barrier between the outside and inside. You're effectively increasing the living space of your home to include the outside space. One consideration when choosing bi-fold doors is that, when they are closed, more framing profiles are visible which may impede slightly on the view.
Sliding doors, conversely, can have slimmer sightlines along with larger expanses of glass, so plenty of natural light streams into the home. With our lift-and-slide technology, the sliding door is easy to operate, no matter how much it weighs. Unlike bi-fold doors, you will not be able to open up the entire wall as one pane will remain in place with the other aligned neatly behind. For example, with triple track systems, the door opening will be 66%, for two-panel sliding doors, the opening will be 50%.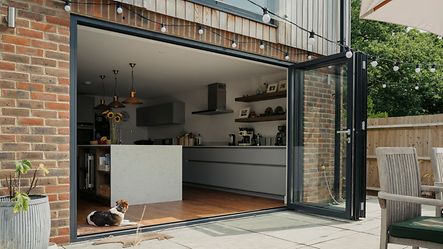 Maximise views or 95% opening? Entirely your choice!
One piece of advice when considering this type of product is to try them out. Bi-fold and large sliding doors incorporate a lot of glass which is heavy and you will be opening and closing them thousands of times over the years. At many of our Schüco partner showrooms or our own Milton Keynes showroom, you can try out the different designs for yourself and experience how Schüco precision engineering makes them easy to operate. 
 
When it comes to choosing between bi-fold and sliding doors, the decision will largely be aesthetic: how much open space do you want to create? For a completely seamless transition between inside and outside, it'll be bi-folds every time as the entire wall of your home is effectively removed when the bi-fold is open.
 
More than a view
To maximise views and infuse your home with a panoramic vista, sliding doors with minimal aluminium sightlines will probably be the first choice. There's also the option to have a completely level threshold, which means there are no trip hazards when stepping out into the garden. All doors come with high weather tightness, so you can design a seamless transition from outside to inside without compromise.
When considering large expanses of glazing in their home, customers often focus on the importance of the view. That's a starting point, but we like to point out that large openings like these provide so much more than a view – they can offer an entirely new way of living in your home.
 
To find out what Schüco can do for your home, email mkinfobox@schueco.com or use LiveChat in the bottom right corner.