The 2000s: Focus on innovation
Schüco identifies the opportunities for globalisation and extends its business into South America and China. With its three divisions – Metal, PVC-U and Solar – the company is a specialist in sustainable solutions for the entire building envelope.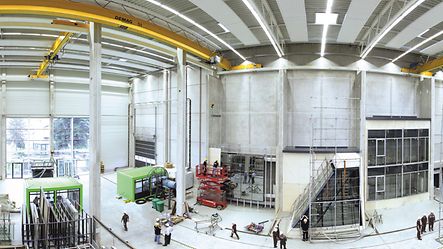 Taking responsibility
2000 Energy efficiency is the key topic of the new millennium. Schüco tackles the hotly debated emerging issue diligently and provides a response for construction to the discussion on carbon emissions. Even in the concept phase of buildings, the outer envelope is designed to conserve and supply energy with intelligent and sustainable window, door and façade solutions.
2001 Schüco goes online: The new Schüco website goes live, providing faster user guidance and more efficient communication and information for customers.
2003 "e-drive" announces a new generation of windows that can be operated electronically without a handle. 
2005 The Schüco Technology Center is accredited as an independent and certified test institute for building envelopes. TipTronic turn/tilt fittings are also launched. 
Innovating with aluminium
2007 The Schüco AWS/ADS window and door systems set new standards and replace the Royal S system. The Schüco Competence Center is also opened at the Bielefeld headquarters, deepening the specialist knowledge of employees and partners through training tailored to target groups. The training in the integrated customer workshop is especially practical, with sessions on how to fabricate Schüco systems and use Schüco machines.
2008 Schüco commits to golf. It's an ideal match: precision and perfection in harmony with nature and technology. One year later, the inaugural Schüco Open is held featuring numerous international golf stars.
2009 Schüco presents the 2° Concept for the building envelope. With pioneering, energy-efficient technology, the company makes a meaningful contribution to restricting global warming to 2° Celsius.