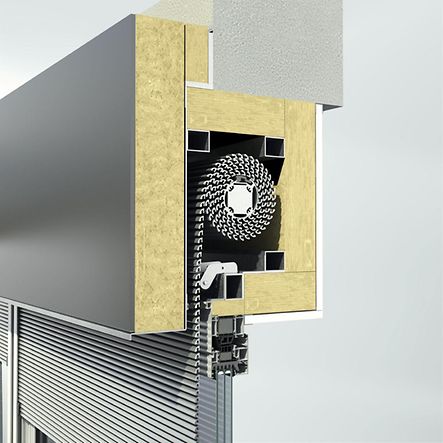 External surface-mounted aluminium micro louvre blade system for optimal shading
Ideal for use in offices and public buildings as well as private residential buildings: the Schüco CTB (Concealed Toughened Blind) sun shading system as a surface-mounted solution on Schüco AWS window systems. The sun shading is installed above the window in an insulated box, thereby fitting in perfectly with the look of the building. When raised completely, it is not visible due to its integration in the top box.
The electrically operated blind, made from aluminium micro louvre blades, permits optimal shading while the high level of transparency simultaneously provides the best possible views to the outside.
The louvre blades can be incorporated perfectly into the external design of the building envelope as their surfaces can be anodised, which creates a cohesive façade appearance.
The highly stable system can withstand extreme wind loads and even be used in tall buildings, practically regardless of wind loads – with maximum performance in terms of efficiency. The solar energy transmittance of the integrated sun shading is calculated depending on the angle of the sun: at an angle of 50° in summer, less than 2 percent of solar energy reaches the room. Rooms therefore heat up less and the energy costs for air conditioning are significantly reduced.
Planning benefit
Extremely high wind stability allows sun shading even on windy, sunny days and in tall buildings
Complete shading provides protection from heat in summer when the sun is at an angle of 20° or higher
High degree of blind transparency of 23 percent guarantees a good view to the outside
Suitable for both newbuilds and renovations
Special louvre blade shape directs diffuse light inside and ensures pleasant room lighting
Available in six anodised colours: C0, C31-C35
Register now..
Work material (e.g. tender specifications, BIM objects, CAD data, catalogues)
Note content
Direct contact to Schüco