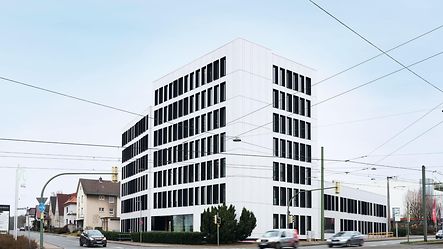 Information about the reference project
| | |
| --- | --- |
| Type of building: | Office and Business |
| Products: | Solar shading, Automation, Windows, Security, Doors, Ventilation, Façades |
| Series: | FWS 50.SI, AWS 75 PD.SI, AF UDC 80, DCS Touch Display, ADS 80 FR 30, FWS 60.HI, FWS 60, AD UP 75, AWS 75 BS.HI+, AWS 75.SI+, FACID 65, FWS 50, FireStop ADS 76.NI SP |
| Location: | Bielefeld, North Rhine-Westphalia |
| Completion: | 2021 |
| Architects: | tr.architekten Rössing-Tilicke |
| Specialist company: | Hilzinger Metallbau |
| Picture credits: | Frank Peterschröder |
Choosing renovation over newbuilds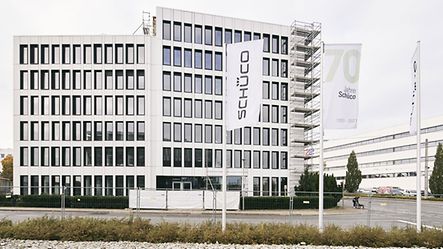 Targets for the renovation
Targets for the renovation
How can you conserve a building whilst also meeting current safety and functionality requirements? The Schüco Corporate Service building is the answer. Situated on the Schüco Campus on the corner of Karolinenstraße and Herforder Straße, the building had remained for the most part unchanged since its construction - only its suspended façade facing both streets had ever been refurbished. It was clear that the expansion of the Campus merited a corresponding renovation of this building. So what to do: Tear down and rebuild? Quite the opposite. Renovation was decided on for Schüco Corporate Services. All aluminium components of the outdated building were fed into a raw material cycle to be recycled. In their place, modern and energy-efficient components were introduced, including Cradle to Cradle certified products such as the Schüco AF UDC 80 unitised façade. Another key design aspect emphasised by Schüco was a future-oriented workspace concept; new ways of working meant that Schüco Corporate Services needed to facilitate communication and networking. The goal was to approach the building in a new and holistic way, both structurally and in regards to the work environment.
Recycling
Recycling
Schüco Corporate Services is not only an example of a successful renovation of an existing building, but also demonstrates the potential that modernisation can offer in regards to sustainable building. The project served as a reference building for a study by the EA (European Aluminium) to confirm the high recycling rates of aluminium removed from buildings that are being dismantled. The building's old aluminium façade was dismantled in 2020 and in total its outer envelope contained more than 28 tonnes of aluminium. Around 98% of the material was collected when the building was dismantled and was then fed back into a closed-loop recycling process, so that it can be used in future to create new aluminium products of the same quality.
New working environment
New working environment
A future-oriented concept for working is also being introduced with the renovation. The office levels were completely redesigned in line with the principles of New Work. Open areas with the option of desk sharing, individual offices providing a quiet working environment, as well as meeting rooms and zones for informal communication alternate with one another in the floor plans. The challenge of enabling concentrated work in an open office space was combated by introducing sound-absorbing materials. Individual bookable rooms also serve as a place to retreat and work undisturbed. In this way, the building manages to combine spaces for open flows of communication with areas for quiet working.
Inspiration from the reference project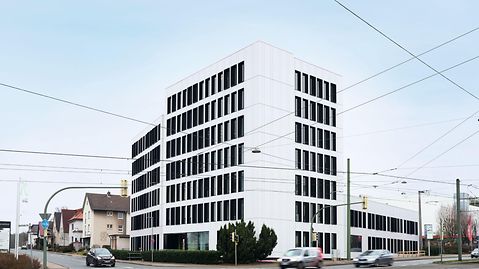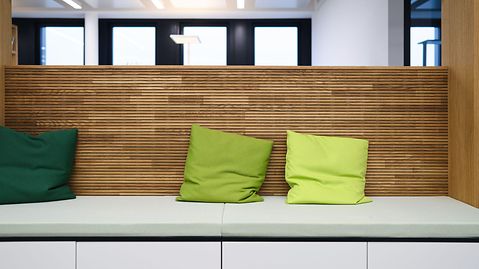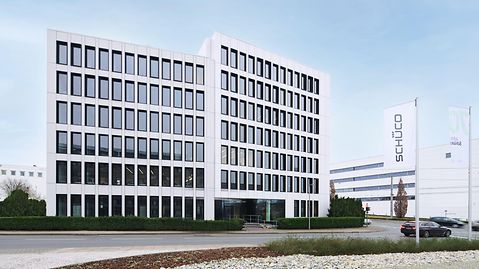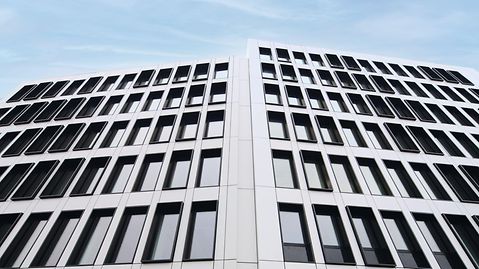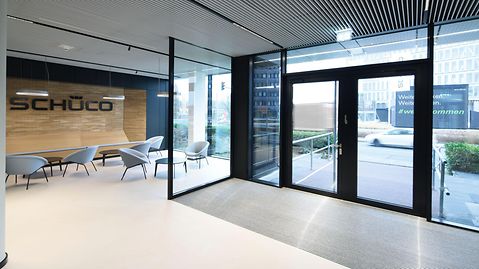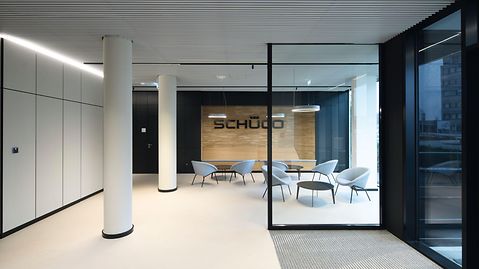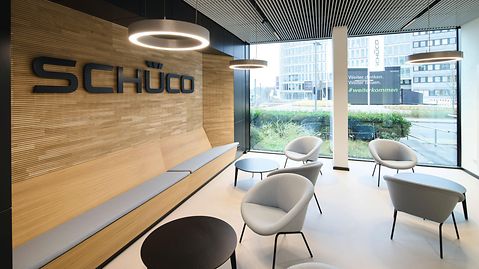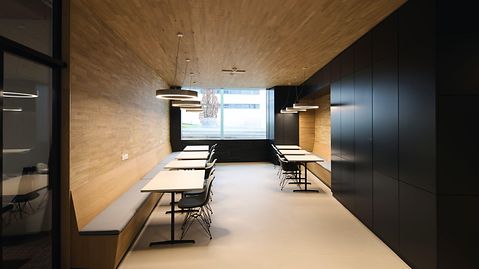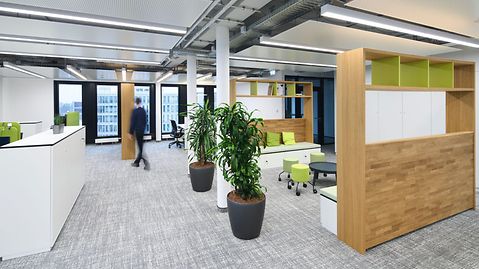 Location of the reference project
Register now..
Work material (e.g. tender specifications, BIM objects, CAD data, catalogues)
Note content
Direct contact to Schüco