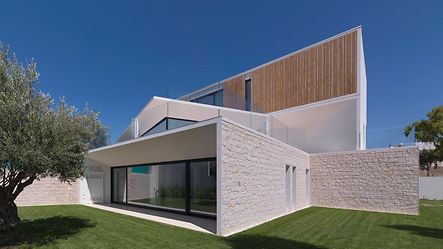 Information about the reference project
| | |
| --- | --- |
| Type of building: | Living |
| Products: | Sliding doors, Doors, Windows |
| Series: | ADS 75 HD.HI, ASE 67 PD |
| Location: | Ragusa, Italy |
| Completion: | 2020 |
| Architects: | Vincenzo Leggio Architetto |
| Specialist company: | Co.Met. dei F.lli Cappello S.r.l. |
| Picture credits: | © Schüco International KG |
At home in holiday paradise
To the southeast of the island of Sicily stand the Hyblaean Mountains. Located on a plateau of these mountains at an altitude of 500 metres is the city of Ragusa. Architecture enthusiasts marvel over the exemplary medieval cityscapes and magnificent buildings from the Baroque era. However, the UNESCO World Heritage Sites in the city also include very modern buildings. Just outside the historic city centre is the Casa Puntara newbuild – a family home that was built in 2020. It stretches over three levels to accommodate the different heights of the driveway and the entrance to the house, while incorporating the many views of the surrounding landscape. All three levels can be seen from the road. Above the solid-looking base storey, clad in the white split face stone typical of the local area, is the white plastered first floor, fitted with large windows and Panorama Design sliding doors.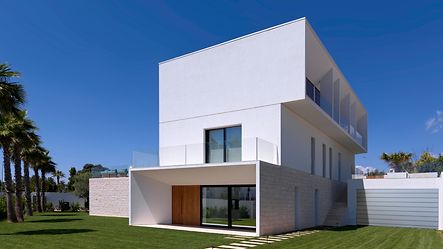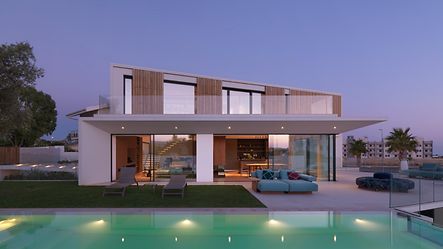 Living on three levels
On the second floor, oakwood panels that can be moved manually shade the rooms behind. The first floor is the entrance level. It is accessed from the road via two footbridges. This level houses the living room, kitchen and bedrooms. A slim staircase leads up to the second floor. In addition to areas for the children, this is also where the workspace is set up, with the main feature being a large bookcase. The generous roof terrace can be accessed through the window fronts, which open up along the entire length of the building by means of sliding doors. On the ground floor there is a second kitchen with a dining area and a spa with a hammam, gym and outdoor swimming pool. The large, floor-to-ceiling Panorama Design sliding doors provide free views of the pool, palm trees, olive trees and carob trees. A particular highlight is the all-glass corner solution without a mullion which seamlessly connects the kitchen area to the garden. 
Inspiration from the reference project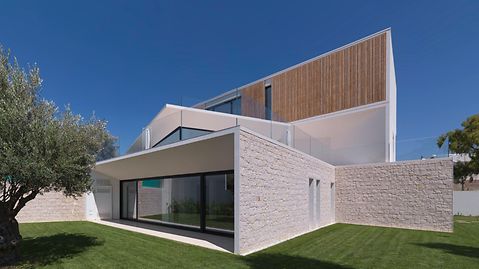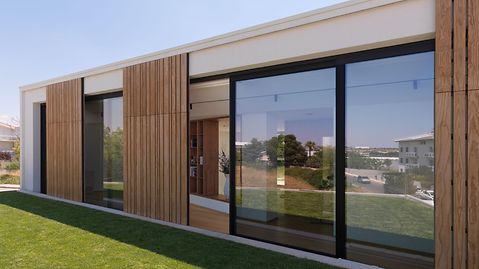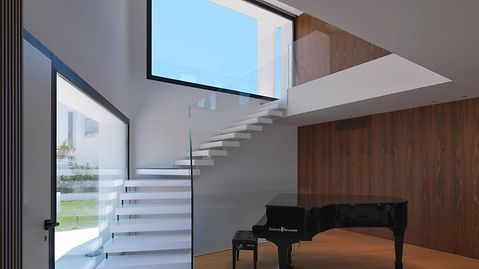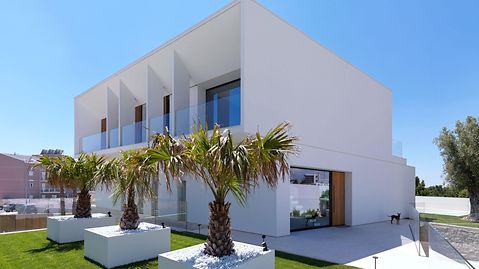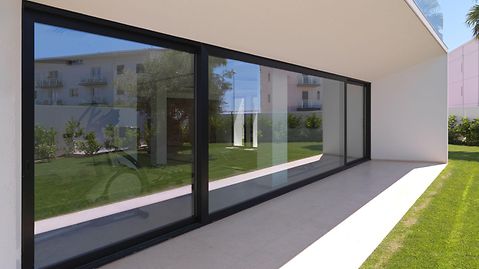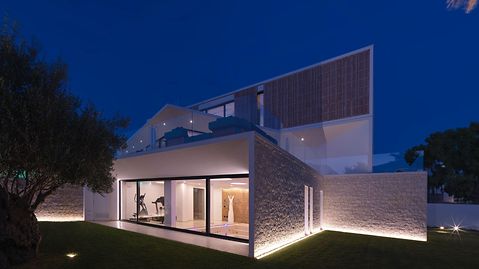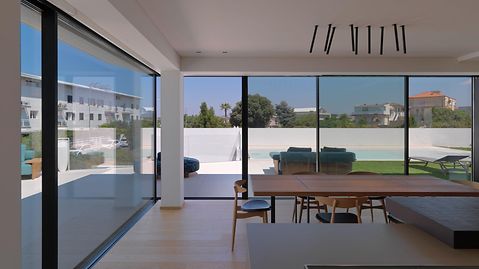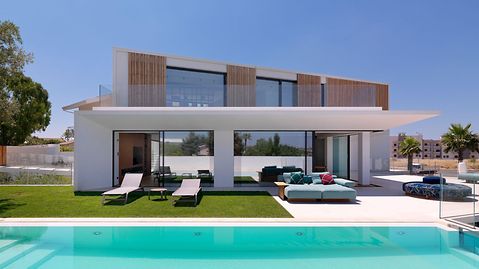 Register now..
Work material (e.g. tender specifications, BIM objects, CAD data, catalogues)
Note content
Direct contact to Schüco