Landmark Pinnacle
Standing at 239 metres high with an impressive unitised façade, the Landmark Pinnacle building on London's Isle of Dogs is a literal representation of a new architectural concept. On behalf of Chalegrove Properties Limited, Squire & Partners architectural practice has designed a unique 76-storey building in London's former docklands and thereby created one of the tallest residential towers in Western Europe. Once it is complete, the skyscraper will be one of the largest Schüco reference projects too.
Alongside a shared roof garden, children's play area, gym and lounge, the Landmark Pinnacle will offer future residents breathtaking views of London's skyline and the Thames. A particular highlight of the newly developed unitised façade is that the tilt/slide sliding doors with an all-glass look are installed so that they close flush with the façade's fixed fields, providing residents and viewers with one-of-a-kind views while maintaining the building's puristic design.
Schüco was heavily involved in the planning of this impressive façade: throughout numerous design meetings with Squire & Partners, Chalegrove Properties Limited and fabricator KFK International, it helped to ensure that the functionality and design requirements would work together in harmony. What's special about the building's construction is that parts of the façade were pre-fabricated by KFK in Croatia before they were delivered just-in-time to the site in London. In order to demonstrate the efficient logistics and installation processes to the investors in the best way possible, the project was first planned and clearly visualised in the Schüco Virtual Construction Lab (VCL).
The Landmark Pinnacle is scheduled for completion in 2021 and will be the last building to complete the overall concept of the West India Docks.  
Thank you to everyone involved in the project: Squire & Partners, Chalegrove Properties Limited and KFK International.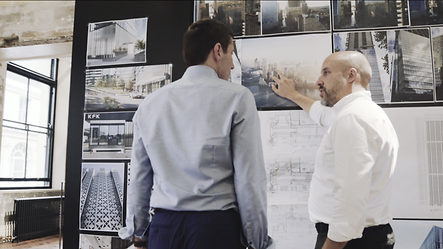 Register now..
Work material (e.g. tender specifications, BIM objects, CAD data, catalogues)
Note content
Direct contact to Schüco