Holiday home by the Fjord
Between rocks and ferns, the 82 concrete steps wind up the steep mountain. They lead to Jacob and Jenny Fröslee Jonsson's holiday home: a timelessly modern, 100 m2 retreat on the small island of Flatön on the west coast of Sweden. The architect couple built Villa Vy for themselves and their four children.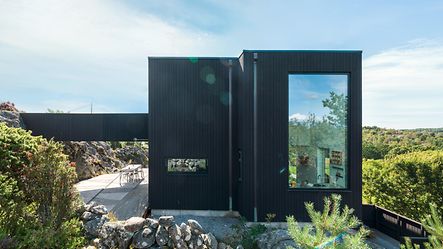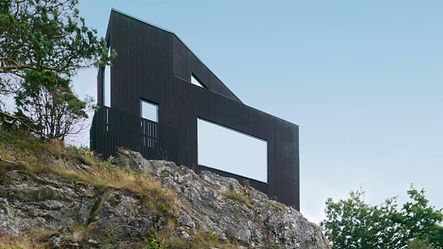 Project: Villa Vy 
Location: Flatön/SE
Client: Jacob and Jenny Fröslee Jonsson 
Architects: Jacob and Jenny Fröslee Jonsson
Living space: 100 m2 
Construction period: 2012–2013 
Schüco systems: FW 50+
The building envelope is made from dark­painted wood which, when viewed from the sea, blends in with the mountain in the background. However, if you move closer to the house – to do this you need to climb the exposed concrete steps coming from the west – the picture changes: the building stands clearly visible on a hilltop and looks like a large rock. It is comprised of two parallel but slightly offset building structures with sloped and sharp edges. In the evening, the occupied house lights up; through the different sized windows you can freely observe their family life. The architects write that the building was designed from the inside. The façade openings are positioned according to how the spaces are used and the relationship to the landscape. There is a particularly impressive view through the panoramic window (Schüco FW 50+), which dominates the main side towards the water. This opening provides constant, pleasant daylight to the living and dining area measuring 12 m2 and, in some areas, 5.5 m high. The void and the windows make the space seem larger than it truly is. The kitchenette – made from light­coloured wood like all the other room dividers – was oriented to the east by the architects. An almost room­height and width window ensures an unimpeded view here as well. In the rear area of the living space there are two bedrooms and a shared bathroom. The doors are cleverly concealed in the timber wall or between the built­in wardrobes. A corridor leads to the rear terrace, which is built into the hillside. A single run of stairs integrated into the timber structure provides access to the open gallery level, where two more bedrooms are located. The developers oriented one wing­shaped roof terrace towards the east and one to the west. When the weather permits, the family can also u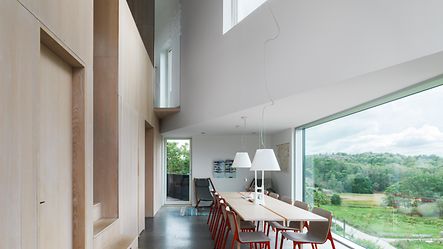 Holiday home by the Fjord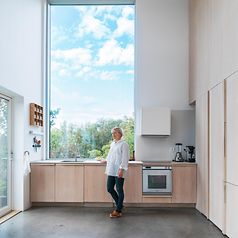 Words: Katja Pfeiffer 
Photos: Jacob Fröslee Jonsson
Register now..
Work material (e.g. tender specifications, BIM objects, CAD data, catalogues)
Note content
Direct contact to Schüco