A gateway for the Zeil - Zeil 111 residential and commercial building
The newbuild of the Zeil 111 residential and commercial building in Frankfurt's top inner- city location has proved to be a piece of complex urban restoration. The new building curls around an existing chemist in a gap between buildings which is 45 metres deep, only 10 metres wide on the Zeil shopping street side and 20 metres wide on the Holzgraben street side.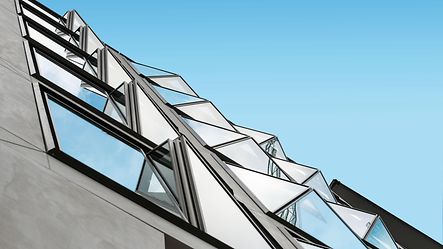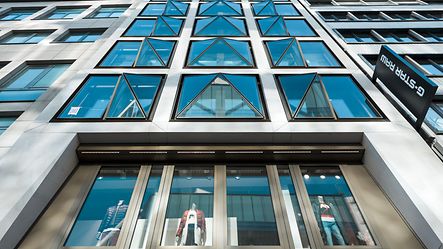 Project: Zeil 111 residential and commercial building 
Location: Zeil 111, Frankfurt am Main
Client: Else Kröner­Fresenius­Stiftung, Bad Homburg v. d. H. 
Architects: TEK TO NIK Architekten und Generalplaner GmbH, Frankfurt am Main 
Completion: 2018 
Gross floor area: 4.000 m2 oberirdisch 
Gross room capacity: ca. 14.143 m³ 
Structural design: Bub + Alcaraz Planungsgesellschaft mbH, Frankfurt am Main 
Project controlling: Drees & Sommer, Frankfurt am Main 
MEP: Planungsgesellschaft Statzner mbH, Eltville­Hattenheim
Electrical plannin: K. Dörflinger Gesellschaft für Elektroplanung mbH & Co. KG, Allendorf 
Façade design: IFFT­Institut für Fassadentechnik Frankfurt GmbH, Frankfurt am Main 
Façade construction: rossmanith fenster + fassade Rossmanith GmbH & Co. KG, Heidelberg 
Schüco systems: Parametric System
Two­storey portals were constructed on the street side to form an entrance to a passageway and the commercial shops and thereby make them more attractive. The façade is made of solid natural stone, with the portal stone edges broken and cut irregularly at an angle of 45°. The three­dimensional depth of the portal is bolstered through the use of protruding, prism­shaped impact panels across the height of five upper floors. Stone and glass were deliberately used for contrast. Each of the windows measuring up to 2.40 m x 2.50 metres on the five upper floors of offices and apartments on the Holzgraben street side are designed as oriel windows. The sloping glass surfaces were chosen for design reasons and in order to provide sound reduction and protection against pigeons.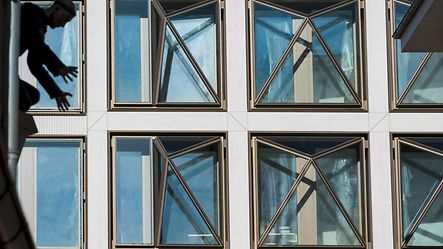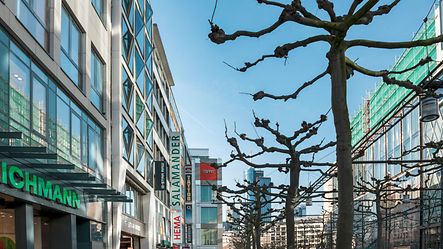 Developed by Schüco, the Parametric System of the freeform 3D façade was fed into the CAD software of architectural practice TEK TO NIK and the feasibility and adherence to the system limits were monitored at every stage of the planning by means of an intelligent system plug­in. During the design stage it was already clear that the window system could only function as an impact panel. A project­specific and single­glazed solution was therefore developed, whereby Schüco adapted the system profiles as single­glazed versions and used a special profile to create the frame solution. The necessary cutting files and the fabricated system components were generated from the digital model. The precision of the Parametric System makes digital planning and fabrication imperative owing to the complexity of the geometries.
Words: Eva Maria Herrmann
Register now..
Work material (e.g. tender specifications, BIM objects, CAD data, catalogues)
Note content
Direct contact to Schüco