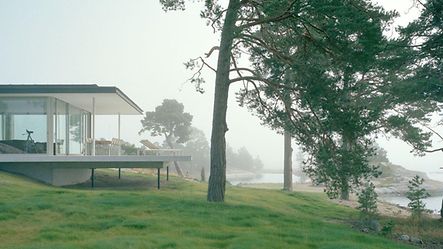 Information about the reference project
| | |
| --- | --- |
| Type of building: | Living |
| Products: | Sliding doors |
| Series: | ASS 50 |
| Location: | Smådalarö, Sweden |
| Completion: | 2009 |
| Architects: | Jordens Arkitekter |
| Specialist company: | Öjebyns Glas & Aluminium |
| Picture credits: | Lindman Photography Fotograf Åke E:son Lindman AB Ålstensgatan 17. 167 65 Bromma. Sweden Phone: +46 8 34 35 80 info©lindmanph |
A world of its own
A world of its own
The Villa Kymmendö lies in the middle of a private island on a small hilltop, glazed on all sides and surrounded by wind-blasted pine trees, rocks and the sea. It was designed by Jordens Arkitekter.
A cantilevered plane makes the building appear to float above the ground. Two ten-metre wide cantilevered planes bring together a continuously glazed volume of around 230 square metres of living space. The 36 metre long floor panel also functions as an all-round veranda and terrace with an uninterrupted sea view. The roof, a glued laminated wood construction, is supported on the long sides by seven slimline internal round steel pillars; two further external pillars support the cantilevered terrace roof. Standing around 30 centimetres in front of the load-bearing structure, the glass and aluminium sliding construction (Schüco ASS 50) divides the space. 2.45 metre wide fixed and moveable units alternate with one another. Each pair corresponds to the distance between the pillars, which are concealed from the outside by the frame construction.
They used local Gotland sandstone for the flooring throughout, as well as for the work surfaces and kitchen units, and for bathroom walls and surfaces. In the central block there are four bedrooms with alcoves – the beds are on two levels and, like the desk and wardrobes, they are designed as built-in furniture. The bathroom and stairwell on the opposite side form another unit, which opens onto the storage and utility, laundry and hobby room in the basement. Separated by a glass door and partition wall, the parents' area at the northern end houses a bedroom, walk-in wardrobe and bathroom. Facing south, the approximately 80 square metre living, fireplace and cooking area has an open plan design. With the sliding units, the space can be opened up onto the veranda and terrace.
In terms of the conceptual approach, Villa Kymmendö is a marked contrast to the construction method traditionally found in the Stockholm archipelago. Instead of a saddle roof, Jordens Arkitekter opted for a flat roof, and instead of a colourful timber façade they used an architectural style that literally »stands out« from its surroundings. Jordens Arkitekter set the actual roof back from view, and covered the fascias with dark sheet metal and the floor panel with the light Gotland stone. Villa Kymmendö inevitably invites comparisons with Farnsworth House by Mies van der Rohe. The cantilevered slabs (although not the internal supports), the (floor-to-ceiling) room furniture and even the curtains are similar to the famous archetype. At Jordens Arkitekter every connection, every surface and every detail is carefully conceived. Villa Kymmendö has almost no visible installations of additional elements; this, too, the Swedish architectural practice clearly based on the simple language of Farnsworth House.
Inspiration from the reference project