The 1960s: Driving expansion
In the 1960s, construction activities are increasingly being directed towards commercial projects. "Everything from a single source" is the central motivation behind a majority of orders – Schüco is becoming a systems provider. Likewise, the importance of service is also growing, as the full package is made of more than just the perfect product quality and reliable fabrication which Schüco provides to the construction industry; it also takes detailed advice, training and valuable customer support. 
Marktinnovation
1963 Die erste große Systementwicklung "Allwetter" für Schiebetüren und -fenster erobert mit einem neuartigen Dichtungssystem den Markt. Das System verkauft sich hervorragend. Großflächige, rahmenhohe Schiebeelemente und Glasfronten erlauben einen weiten, ungetrübten Blick nach draußen. Sie spiegeln das Lebensgefühl der Zeit, den Wunsch nach Weite, Freiheit und großzügigem Denken wider. 
A strong bond, even today
1964 The sale of Schüco to technology company OTTO FUCHS KG opens up new business and technological horizons. Schüco founder Heinz Schürmann hands over management of the company to Dr Ernst von Wedel. Technical excellence and a vision for the future pave the way forward.
Schüco also presses ahead with international expansion. Subsidiaries are set up in France, the Netherlands and Denmark. The company expands within Germany too. When the premises on Schildescher Straße become too small, Schüco designs a new office and warehouse on Karolinenstraße, where the company headquarters are still located today.
Schüco also seeks out new business areas. With the foundation of Schüco Design (now Schüco Interior Systems) in Borgholzhausen, Schüco expands its range to include the fabrication of aluminium fittings for the furniture industry.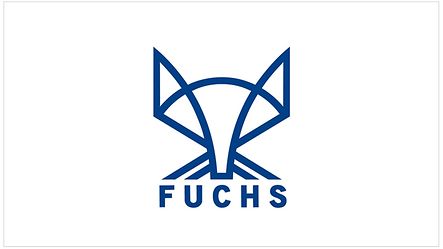 Hervorragender Service
Im gleichen Jahr führt Schüco einen eigenen Architekten-Außendienst ein: Mit der Architektenberatung legt Schüco den Grundstein für umfassende Serviceleistungen und zeigt damit, dass persönlicher Kundenkontakt ein wichtiger Baustein für erstklassigen Service ist.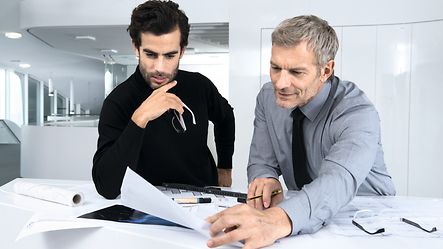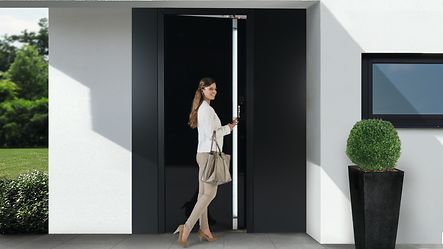 Starke Basis
1966 Mit dem "Alldoor"-System präsentiert Schüco die erste eigenentwickelte Ganz-Aluminium-Tür. Sie ist bis heute die Grundlage für alle folgenden Türensysteme. Besonders das System "Alldoor 60" überzeugt durch optimierte Dämmeigenschaften. Während herkömmliche Aluminiumprofile für Fenster und Türen die wertvolle Hauswärme zu leicht ins Freie lassen, sorgen bei dem System "Alldoor 60" mit Polyurethanschaum gefüllte Elemente dafür, dass die Hauswärme nicht so leicht entweichen kann. 
Nur zwei Jahre später bringt Schüco mit der "Alsec 60 M" die erste wärmegedämmte Ganz-Aluminium-Konstruktion auf den Markt.