4. Operation & Maintenance
Utilise the benefits of Schüco:
Flexible and open: connection to open building management systems such as KNX or BACnet as well as networking of Schüco BSC with various smart home systems by means of the Schüco Cloud
Intelligent and convenient: with the Schüco app, you can activate automatic functions such as night-time cooling, air quality sensors, motion sensors, silent mode time
Individual and clearly laid out: the new Schüco dashboard offers a personalised overview of all mechatronic units in a web interface – all units can be assigned to floors and rooms, allowing them to be localised quickly and easily if there is an event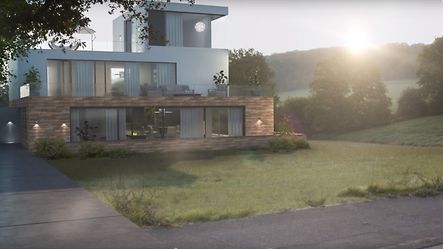 Digital solutions for clients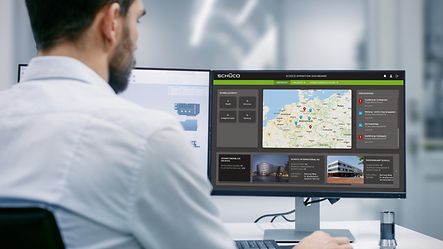 Building Skin Control
One system for all units: Schüco Building Skin Control (BSC) is the comprehensive platform for the integration, control and monitoring of Schüco units in the building envelope. An open interface enables the connection of building management systems such as KNX or BACnet, as well as smart home systems such as Amazon Alexa.
The cloud-based Schüco Operation Dashboard is new. It offers an individual graphical overview, localisation and checks of all active Schüco BSC systems. On the dashboard, the user can see at a glance the live status of each mechatronic unit and a news feed. They can also plan and manage services for systems (e.g. maintenance cycles). The user-specific access management also allows the app authorisation to be managed by unit or group.
Intelligent control and monitoring of ventilation and ambient air quality, for example, no matter where you are
Simple connection to smart home systems via the Schüco cloud
Plan and manage service work
Everything at a glance on the Schüco Dashboard
For more information, visit: 
Register now..
Work material (e.g. tender specifications, BIM objects, CAD data, catalogues)
Note content
Direct contact to Schüco