Westward Hoe
In West Sussex in the south of England, owners Julie and Toby Oliver converted a barn into their dream home in the middle of the countryside. They focused on combining contemporary design with a harmonious timber façade.
Timber building with an innovative design
Julie and Toby Oliver designed their home so they could enjoy sunlight, open spaces and the views of nature. The converted barn stands in the middle of their plot in Bognor Regis on the south English coast, where the couple has lived for many years. Both of them wanted a change, but didn't want to give up their beautiful location in the middle of West Sussex, so they opted for a conversion. One of the key stipulations of the planning permission was that the building had to emulate the existing barn. The result is an oak-clad timber-frame building that combines contemporary design with bright and airy living spaces.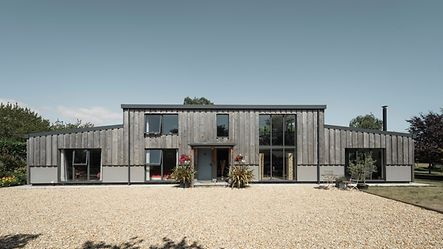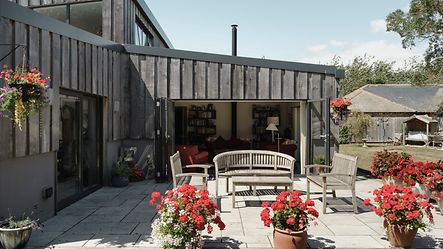 Views of nature
"We had a good idea of how we wanted the living space. We were looking for open-plan spaces that would be filled with light and sunshine," said Julie. The large garden offers lots of space to invite friends over and there is a smooth transition between the living area and garden – thanks to large sliding doors in the living areas and a further feature bi-fold door. These make the living space flexible, allowing a number of guests to be hosted too. While the doors are eye-catching, the large windows used on the ground and first floor, with their charcoal grey aluminium frames, perfectly complement the lighter silver tones of the oak-panelled façades and provide views of the surrounding countryside.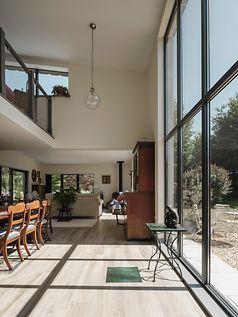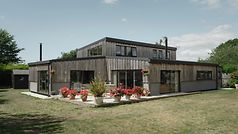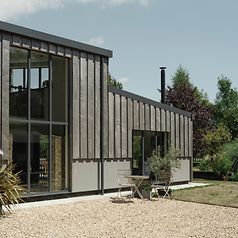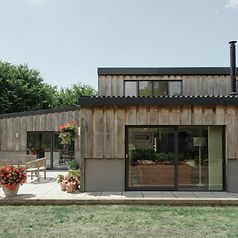 Energy efficiency, high quality and technical refinements
"We love the quality of the Schüco systems," says owner Julie. "When you see the Schüco doors in position and have a play around with the sliding mechanism you immediately have confidence in the engineering. It just feels right." Gabriel Andrisan, Managing Director of Euro Aluminium Ltd, was also looking for high quality, the latest technology, aesthetics and versatility – and Schüco easily combines all of these aspects. Energy efficiency was another consideration, and architectural practice JJR Designs was looking to exceed current building regulations. With energy-efficient aluminium frames and insulating double glazing, the Schüco window and door systems made a strong contribution to the overall energy efficiency and airtightness of the building. This exceeded Julie and Toby's expectations: their energy requirements reduced and their electricity bills were lower than before.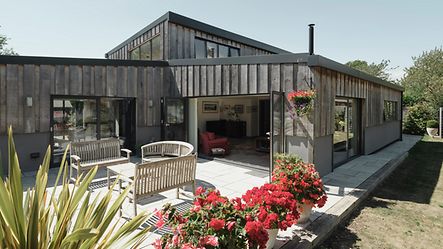 An investment in the future
Julie and Toby are delighted with their decision: "We were looking for a sunny, bright home with lots of space for informal entertaining and that's exactly what we have." Their new home is modern and future-proof, and the couple is looking forward to enjoying their retirement in their larger living space.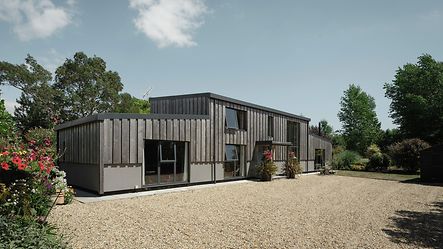 Project: Westward Hoe
Location: Bognor Regis, UK
Clients: Julie und Toby Oliver
Architect: JJR Designs
Fabricator: Euro Aluminium
Completion: 2019
Schüco systems: ASS 70 FD, AWS 70 SC
Photos: Tim Crocker
Find out more about Schüco sliding doors in our web special at
www.schueco.com/myslidingdoor.