Villa on a Swedish island
Sweden has around 221,800 islands, big and small. On one of them, you can find a single-storey villa overlooking the sea. Its rectangular form, fixed to the rocky ground with dark concrete posts, appears discreet and unassuming. You immediately notice the large sliding system that spans the entire frontage and is sure to offer fantastic views.
Which three things would you take with you to a desert island? If you put this question to Italian architect Matteo Foresti, he just laughs and waves it aside. Three things? That definitely wouldn't be enough with his last project, as Foresti's plans were too extensive. From his office in Stockholm, he designed a house or, to be more precise, a villa. At first glance, this is nothing extraordinary. However, his 3D model allowed you to imagine the place where the building was to be constructed: rugged, sparse, with abundant nature and very few people. The plot is actually located on a small Swedish island, directly on the rocky coastline.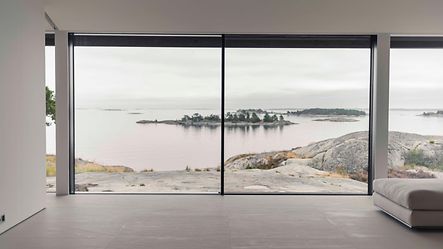 Well prepared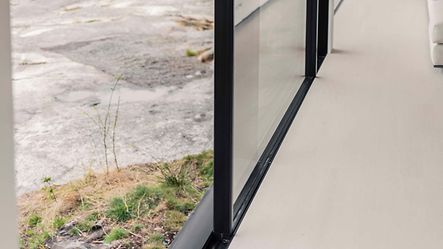 The location is a dream come true for lovers of nature and those looking for some peace and quiet. But it was a tricky business to plan this building project and bring it to fruition. Jesper Nilsson from JoNi Metall & Glasprojektering AB also describes it in similar words. His job was to install the Schüco ASS 77 sliding system in this remote location that can only be reached by boat or helicopter. Every detail had to be carefully considered, from the smallest screw to the largest profile and all the necessary tools in between. Construction work took place from May 2017 to autumn 2020, with as little as possible and only the essentials in the team's luggage. This was no mean feat, one that required excellent planning, precise execution and good teamwork, as confirmed by Adam Sagström (Schüco Area Sales Manager), who provided support for the project.
Left to the elements
The result is a house in the middle of nature, in a peaceful, secluded spot. You can almost touch the sea from the large sliding systems, which make the unspoiled view even more stunning. From here it is easy to lose yourself in the landscape. Your troubles float away, leaving a pleasant longing and a bittersweet melancholy. It's a typical experience of Sweden's nature. Whether an autumn gale is raging outside, snowflakes are dancing on the panes of glass, or the sun is shining a dazzling reflection on the sea, the observer becomes part of the spectacle, whatever the weather. Every day brings something new and surprising.
Find out more about Schüco sliding doors in our web special at