Villa in Fredericia
The architecture of this stunning villa located in Fredericia, Denmark, is influenced by its surroundings and characterised by a harmonious choice of materials and high functional requirements. With this house, the owners, Line and Martin Tarpgaard, have fulfilled a lifelong dream.
New building with a clear vision
When Line and Martin Tarpgaard decided to build their dream house four years ago, they had already found the plot for it long before that. They had been living there for 10 years – but in a red brick house. Back then, they had already fallen in love with the unspoilt views of the sea and the lush greenery. Their desire to be able to enjoy these views from inside the house as well inspired them to tear down the brick house. In a well thought-out planning process, they drew up their own design, which reconciled the location, the lighting conditions at different times of the day and the functionality required by the family of 6. As a former designer, Martin Tarpgaard had a clear vision of what the design and functionality should be. Together with architectural practice Lorenzen, the final details of the house were planned and the demolition and construction project began.
The result of the four year-long design and construction process is a large and functional villa, which blends in seamlessly with the surroundings due to the materials and architectural solutions used. While large glass areas are predominantly used on the side facing the sea to keep the views unrestricted, a continuous wall on the front side of the house shields the property from the road, thereby providing sufficient privacy.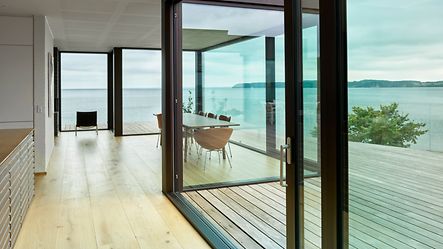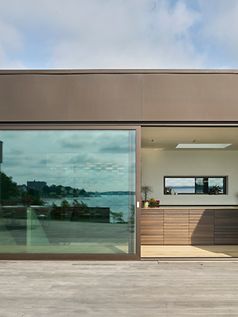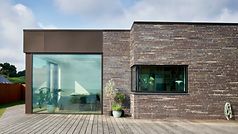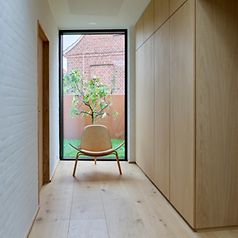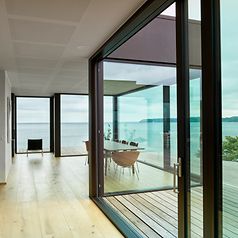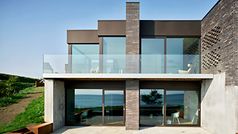 Framed views
As soon as you enter the villa, you are struck by how the raw materials used, such as bricks, timber, Corten steel and aluminium, combine to form a natural colour palette, which creates gentle transitions. The rooms on the first floor have a minimalist design. Large sliding doors and façade systems ensure maximum transparency, opening up views of the sea and green landscape.
The family chose a safety barrier made from diamond glass for the terrace, so that there are almost no visible transitions. The large sliding doors and glass areas therefore allow inside and outside to merge into one.
Intelligent solution
Lost or forgotten keys are a thing of the past. Thanks to a door leaf with an integrated door control system, the family can enter the home using a personal access code. Using the Touch Display, communication at the door via a camera or the corresponding app is also possible. This intelligent solution is easy to operate and offers a high level of security.
Project: Villa Tarpgaard
Location: Fredericia, Denmark
Clients: Line and Martin Tarpgaard with their four sons
Architects: Tegnestuen Lorenzen, Vejle, Denmark
Construction period: 2016-2020
Schüco systems: ASE 80.HI sliding doors, FWS 50 façade system, ADS 90 SimplySmart entrance door with DCS (Door Control System)
Photos: Kirstine Mengel