Villa in Curitiba
The fusion of comfortable living, unspoilt nature and Brazilian lifestyle - this is what this impressive family home stands for. A play with dimensions, contrasts, light and shade opens up entirely new perspectives.
At the gates of the southern Brazilian city of Curitiba, an oasis of deceleration opens up. In a residential neighbourhood on the edge of the Serra do Mar mountain range, a family has made their dream home come true. The location of the plot was decisive for this property - from the purchase to the final design. "The integration of the landscape forms an indispensable design element and makes the residence a true urban haven," emphasises the architect in charge, Elaine Zanon. In terms of concept, everything revolves around fluid transitions. The U-shaped building opens up to the spacious lounge and leisure area with an infinity pool that seems to flow into the expansive green space. Interior and exterior areas merge perfectly with each other through oversized glass surfaces and design sliding doors. They replace a large part of the façades and allow the feeling of being outside to enter every living and sleeping area. The decisive factor here is the particularly narrow frames of the design sliding doors, which guarantee maximum transparency. Glass terrace railings allow an unrestricted view of the fantastic mountain panorama.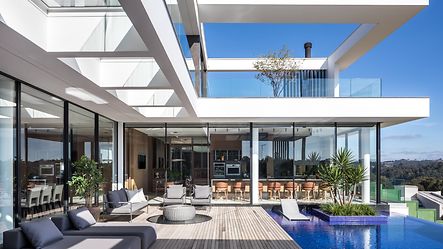 "The living spaces are expanded to include the wonderful countryside."
Architects Elaine Zanon und Claudia Machado
Conversely, the play of light and shadow created by the large pergolas finds its way into the interior and provides exciting vantage points. "The architecture is characterised by the play of volumes, which stand out from each other through the contrast of light and dark tones and different textures," describes Elaine Zanon. To give the modern building a natural character, the grained natural stone Gris Armani runs from the façade to the fireplace and into the bathroom. The contrast is provided by light natural tones, warm wooden floors and wall panelling, which the family wanted for a cosy living atmosphere. In the basement, there is space for a garage, an indoor garden and hobby rooms for making music and playing games. The highest priority, however, was given to the "Gourmet Area", which underlines the Brazilian attitude to life: the heart of the house combines kitchen, living and dining area - for relaxed living together, enjoyment and plenty of space to celebrate with friends and family. Of course with a flowing transition to the terrace. Here, summer evenings can be spent relaxing with a cocktail or cafézinho.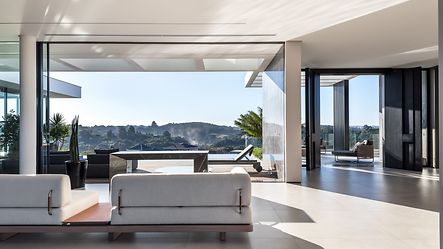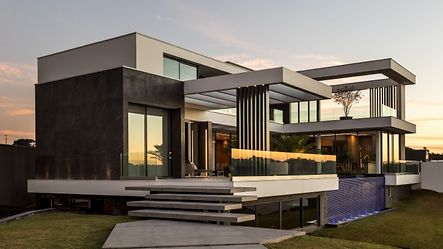 Object: Casa SRS
Location: Curitiba, Brasilien
Architects: Elaine Zanon & Claudia Machado
Fabricator: Alubauen Ltda
Completion: 2020
Products: Sliding doors
Schüco systems: ASS 39 PD.NI, TropTec AS special construction
Photos: Eduardo Macarios
Find out more about Schüco sliding doors in our web special at